Merrill Auditorium, Portland, ME
March 10, 2011
Interview with Fiona McCabe, a dancer and choir singer in Riverdance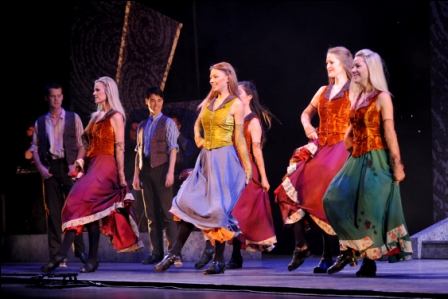 There are shows, and then there are shows worth making a road trip to attend.
Enter the beloved Riverdance, the fusion of Irish and international dance, instrumental music and song that broke all box office records during its world premiere run in Dublin in early 1995.
If you've never seen it, this could be your last opportunity in the USA at least for a while. "While we are on a farewell tour right now here in the US, there is another company that has just performed in China and South Africa," said Fiona McCabe, a dancer, drummer and choir singer in the show. " Riverdance is still going strong. The show continues to find new audiences, as many who saw it as a child 15 years ago are now bringing their own children!"
They can do that in choosing among three performances Friday and Saturday, March 11-12, at Merrill Auditorium in Portland, Maine. The company is in Symphony Hall, Springfield, MA. at 8 p.m. tonight and will conclude its New England stay at 7 p.m. Sunday, March 13, at Providence Performing Arts Center, Providence, R.I.
"Our New England audiences seem to be as welcoming as ever, some of the best we've had in fact," said McCabe. "We have performed many times in New England."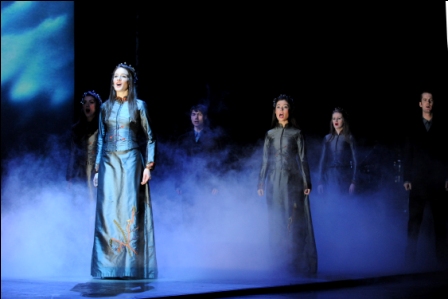 A native of County Meath, Ireland, McCabe has been a dancer with Riverdance since 2004 and joined her first North American tour in 2007. She said she was delighted to have the opportunity to perform her first tour in China, South Korea and Singapore last year with a short one week tour in Lebanon.
"You don't have to be Irish to love Riverdance" she assured.
Though Irish in its foundation, the shows seems to transcend heritage and speak to people of many cultures, McCabe said. Once Riverdance began touring the world, she said people of all cultures (including Japan, Mexico, China, Spain, Russia, Italy and elsewhere) "were very moved with the story and all identified with various portions of the show in some way."
"Because the music and dance is so special and raw, I think it seems to reach out to many," she explained. The choreography includes interaction with many other cultures, she added, including Spanish Flamenco and African American tap.
She advises anyone coming for the first time to just sit back and enjoy it. "Be prepared for some fascinating Irish and other dance choreography in both graceful soft shoe style, and strong rhythmic hard shoe pieces," she said. "The magic of the choreography is brought to life by an intricate mix of some very beautiful music compositions."
From solo female and male dancing performances to musical laments and a live band playing, the show will be sure to captivate audiences of all ages, she added.
The format of Riverdance has remained mostly intact through the years, McCabe said. "It's still the same infectious music everyone loves," she said.
It is a presentation that has captured the hearts of audiences worldwide, she reminds. "There is nothing like seeing Riverdance live. The power of the dance is incredible! This is a great show for the entire family," she said. "Music and dance is a common denominator among us all, and I believe Riverdance is the perfect marriage of both of these elements."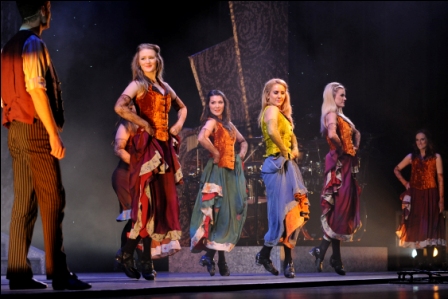 Riverdance is performed at 8 p.m. Friday and 2 p.m. and 8 p.m. Saturday, March 11-12, at Merrill Auditorium, Portland, ME. Tickets are $44-$69. Phone 207-842-800.
By Ryan O'Alan
www.fosters.com
Thursday, March 10, 2011