Figure skating meets Riverdance
February 20, 2011
Brandon Penny, February 19, 2011
A few months ago, the worlds of figure skating and Irish dancing collided like never before. Only it was much more of a harmonious collaboration than a collision.
That collaboration aired Saturday, Feb. 19, 2011, at 4 p.m. EST on NBC, in a special called "Riverdance on Ice," which stars the Riverdance troupe and 12 Olympians. The show rebroadcasts on Hallmark Channel March 15 and 21, 2011.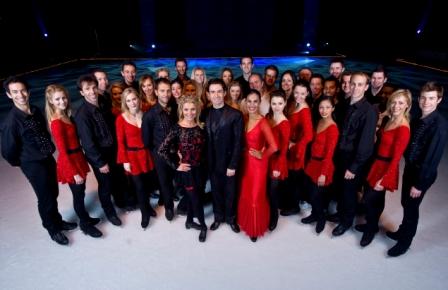 The impressive figure skating cast has earned a total of four Olympic medals and 24 World Championship medals. The skaters were Americans Tanith Belbin and Ben Agosto, Sasha Cohen, Todd Eldredge, Amanda Evora and Mark Ladwig, Emily Hughes, Michael Weiss, Canadians Shae-Lynn Bourne, Jeffrey Buttle, Joannie Rochette, and British skater Steven Cousins.
When the Riverdance cast members first heard about "Riverdance on Ice," the idea sounded a bit foreign.
"My first impression was, 'Okay I'm going to have to learn how to ice skate and not only ice skate but dance on the ice,'" said Padraic Moyles, Riverdance's male lead.
"Then as they spoke more about it and how it was gonna work and how to integrate the Riverdance with the ice skating … I was like, 'Wow this is gonna be really really cool.'"
He was right – it was cool. In reality the skaters would skate programs that were choreographed to the Riverdance show while the Riverdance cast danced on stage.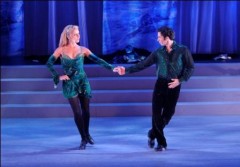 The show was taped in Lowell, Mass., a location that worked perfectly considering the state's many figure skating connections.
The evening's hosts were 1994 Olympic silver medalist Nancy Kerrigan and 1998 Olympic silver medalist Michelle Kwan. Kerrigan lives in Lynnfield, Mass., and Kwan is a graduate student at Tufts University in Medford, Mass.
A couple of the performing skaters also had local connections. 2006 Olympian Hughes is a student at Harvard University in Cambridge, Mass., and expects to graduate in Dec. 2011. While she did not skate competitively this year she is keeping the option open for the future.
"Some of my roommates are here, they came to cheer me on and watch the show," Hughes said.
1996 world champion Eldredge was born in Chatham, Mass. He used the opportunity to catch up with his parents, who also came to the show.
Both skaters have skated in shows with musical acts before but it was the first time they joined forces with Riverdance.
"My favorite part was any time we were all on the ice skating at the same time they were all dancing – the whole troupe of skaters and the whole troupe of dancers together was really unique and pretty cool," Eldredge said.
As it turned out though, the concept of combining both art forms turned out to be very distracting for all the performers.
"It was unbelievable and I could barely do my own routine because I was watching them do triple axels in the air going, 'Woah! That was amazing,'" said Melissa Convery, the show's female Riverdance lead.
"I had to stop watching them because if I continued to watch them there was no way I was gonna be dancing. I might as well just take a seat in the audience."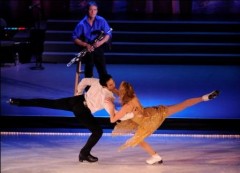 Moyles, who has been with Riverdance since 1997, said it was the most distracting thing he has ever done. What is normally clockwork to him was thrown out the window as he watched the skaters jump, spin and even flip in front of him– a new and completely unfamiliar element to the Riverdance show.
"I almost had to slap my face to focus on the stage – don't do it, don't do it!" said Convery, who has also been with Riverdance since 1997.
The skaters faced that same obstacle.
"We've been talking to a lot of the Riverdance dancers and we find them so great and they find us so great and we end up watching each other while we're out there instead of concentrating on what we gotta do," said 2010 Olympic pairs skater Evora, who made her Disson Skating show debut in "Riverdance on Ice."
Evora and partner Ladwig were asked to join the show's cast just a week before the taping because British ice dancers Sinead and John Kerr were forced to drop out when Sinead suffered a should injury.
The late notice didn't stop Evora and Ladwig from keeping up with the rest of the cast, considering all of the performers only had two days to rehearse together.
And while they had a blast skating alongside the dancers, Evora was also excited about the live band.
"For us it was really exciting to be a part of this show as well as to be able to skate with a band and in our piece we had a drummer and a violinist which is something I had never done before," Evora said.
All of the skaters involved were looking forward to this unique show for one reason or another. Hughes had seen Riverdance when it was on Broadway, Bourne skated a Riverdance-inspired long program in 1998 with then-partner Victor Kraatz but had never seen Riverdance live and Cousins helped conceive the "Riverdance on Ice" idea with sports marketing executive Steven Disson.
The Riverdance troupe was just as excited, if not more, to work with skating idols they had watched on TV in the Olympic Winter Games and World Championships.
"To work with those skaters was absolutely phenomenal," Moyles said. "They are so down to earth – they are Olympians, they're gold medalists and they are idolized around the world and [yet] they are like everyone else in the world but nicer."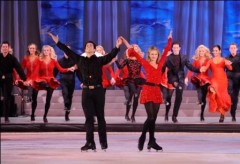 The show includes some signature moves that figure skating fans will expect to see from this cast, like Weiss' backflip and Bourne's impressive footwork.
But it also has some surprises, which include Rochette and Cousins, and Hughes and Buttle skating as pairs, as well as a tapping duel on the ice between Buttle and Cousins.
"I really enjoy performing "Andalucia," that's my solo piece along with Joannie," Convery said. "It was beautiful – that was definitely a number I would've loved to have gotten the time to do a little bit more with her.
Convery wished they had more time to prepare together and improve their synchronicity. Her thoughts were echoed by the rest of the cast.
"I'd love to do something like this again where we had more time to incorporate each other's aspects of performance and I think that was a general consensus between all the skaters and the dancers," Moyles said.
The one-night-only show has sparked talks of an annual show and even a possible tour. Though the skaters and dancers would not feel comfortable trading places with the other any time soon, "Riverdance on Ice" proved their two sports really are similar.
"The dance factor involved in the two bring them together very well," Convery said. "I also think the fact that the skaters have such a performance factor within them like the dancers and we both can deliver them whether it be on stage or on the ice.
"When we do a double jump on stage when they do their triple axel that's the similarity between one and the other. Even just their arm movements, our arm movements I think it just blended so well, it really worked."