Jennifer de Klerk
www.artslink.co.za
01/27/2011
Haunting music, flashing feet, beautiful girls so light they look as though they are flying … this is Riverdance.
I've waited a long time to see the original Riverdance – we all have – and I was not disappointed. I suspect, though, that we are seeing a compact travelling version compared to the clips on YouTube, but it was enough to enchant, excite and satisfy.
"Why do you want to see a lot of dancers who only move their feet?" I was asked, when I said I was going to see the show. Of course, that is the style of the traditional Irish stepdance and there is plenty, energetic, pounding and emotional, but a lot more too.
This is a show that resonates on various levels, touching the deep-down chords of imagery and imagination. Probably the more you know about the Irish and their proud and often tragic history, with its undertones of myth and legend, the more you will respond to the show.
The elements are here in the simple stage setting with a single projected image to set the mood, the haunting sound of the pipes, the slow evocative lament on the Uilleann pipes, the skirl of the fiddle playing the joyous jigs that also characterise the Irish psyche, and the crystal-clear voice of the lead singer with nuances that touch the soul.
Some of the music is on backing track, such as the guitar that accompanied the fiery flamenco section, but most is played live by supremely talented musicians who are very much part of the show.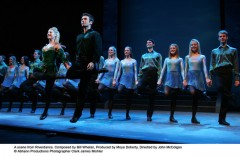 The first half deals with the more traditional Irish heritage – the home country. In the second we are transported, as so many Irish were, to new beginnings in a strange new country. Here Irish dance meets American tap dance in a hilarious duelling feet sequence. Infectious enthusiasm and sheer joy flowed off the stage. This cast was having fun!
I was a little afraid the show would be repetitive, although a show that has survived since 1994 and performed all around the world – there are three casts currently touring – would long since have had the rough edges rounded.
I needn't have worried. The changes of mood and variety in dance styles constantly held and intrigued. One minute there was a thunder of feet as the men – this is a very macho dance style – dominated the stage, then the girls swirled over, as light as feathers, then the musicians took centre stage, or the singers tugged at the heartstrings … no dull moments here.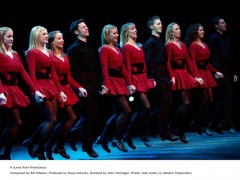 As a spectacle, as entertainment, then Riverdance certainly has what it takes. If you want a bit more, something memorable to take home and cherish, then it has that too.
Riverdance is at the Teatro at Montecasino until 20 February. The season has already been extended. It then moves to Cape Town from February 23 to 27.