Riverdance bursts onto the stage in Singapore
November 23, 2010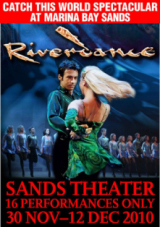 The original international phenomenon, Riverdance, which has enthralled more than 22 million people worldwide, returns to Singapore and marks the grand opening of the magnificent new Sands Theater at Marina Bay Sands, for a limited season of only 16 performances, from 30 November to 12 December 2010.
The Riverdance tour to Singapore will feature 31 amazing performers including the remarkable Riverdance Irish Troupe, the cream of Irish musicians, and an impressive array of talent from around the globe, all performing to enchanting Grammy Award-winning music and lyrics. This is a performance that promises to touch your heart and move your feet.
Marina Bay Sands proudly hosts the Singapore tour of Riverdance as the first show to grace the stage at their gleaming new theater. The brand new Sands Theater at Marina Bay Sands is a state of the art venue which has been designed to showcase world class entertainment of all genres for the ultimate guest experience. With 1600 seats on two levels, it provides an intimate venue with excellent sightlines and acoustics.
"It has been 10 years since Singapore has welcomed Riverdance to its shores, and I can't think of a better show to open such a spectacular venue. Riverdance really is a unique spectacle of unbelievable talent which I'm sure will capture the imagination and thrill audiences across Southeast Asia "says Milan Rokic, Managing Director of BASE Entertainment Asia.
Marina Bay Sands President and Chief Executive Officer, Mr. Thomas Arasi, said, "It is important for Marina Bay Sands to provide extraordinary experiences for all our guests. The global appeal of Riverdance complements our line-up of attractions including the Sands SkyPark®, the best celebrity chef restaurants and Asia's premier shopping venue. We can't wait for this spectacular performance to make its mark on our very own Sands Theater."
Tickets on sale   Don't miss out!
Tickets $70-$170
A limited number of family packages (2 adults and 2 children) are available at $400 in Category A for matinees
BOOKINGS Website: www.marinabaysands.com
SISTIC Hotline +65 6348 5555
All SISTIC authorized agents