Riverdance – First Time in South Africa
October 15, 2010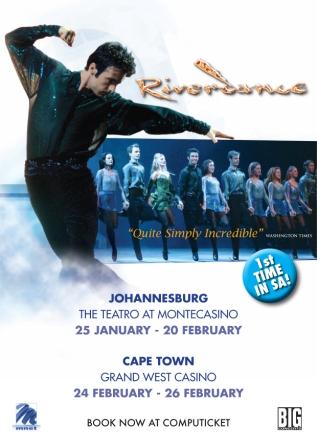 FIRST TIME IN SOUTH AFRICA,THE PHENOMENAL FLYING FOOTWORK OF THE ORIGINAL RIVERDANCE ON STAGE IN 2011
Early 2011 sees this enormous production of no less than 65 cast and crew featuring the remarkable Riverdance Irish Dance Troupe and a spectacular array of talent from Spain, Russia and America grace the stages of The Teatro at Montecasino, Johannesburg from Tuesday, 25 January 2011 to Sunday, 06 February 2011 and Cape Town's Grand Arena at GrandWest Casino for just six shows from Thursday, 24 February to Sunday, 27 February 2011.
"This show is a mammoth not-to-be-missed entertainment experience which we are proud to stage in South Africa for the first time. During the past ten years, local audiences had the opportunity to see other Irish dance styled shows but never before have they seen Riverdance, the original and probably the most successful show of its kind to come out of Ireland in recent times," says Attie van Wyk, CEO of BIG Concerts International.
"The unbelievable precision of the dancers footwork is a sight to behold," adds van Wyk.
Experience the original Riverdance.
Book at Computicket by calling +27 (0) 83 915 8000
Visit www.computicket.com
Or visit your nearest Computicket outlet.
For all Teatro group hospitality bookings contact Montecasino Hospitality
Corporate Events on +27 (0) 11 510 7905 or montecasino.hospitality@tsogosun.com
Riverdance Costume Designer Wins An Emmy
<
Riverdance premiers in Northeast China
>