From Baseball to Broadway in ten easy steps…
September 3, 2010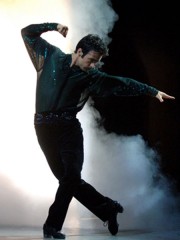 Extract from Irish Daily Mail on 3rd September 2010.
Padraic Moyles, Riverdance male lead, interviewed by Louise Boyle
A FORMER Israeli fighter pilot. A self-taught Mexican. And a Japanese dancer who came to Ireland to pursue his dream. These are just a few of the moreunusual backgrounds of the latest cast of Riverdance.
'When it comes to dancing, you need to get the best people for the job, no matter who they are.You don't get a job on Broadway just because you are from New York, you get it because you're the best,' says lead male dancer on the show, Pádraic Moyles.
But for all that, the 31-year-old Irishman's own background could hardly have been more perfect for the Riverdance phenomenon.
Raised in Castleknock, he was enrolled in the O'Shea dancing school in Dublin before his family emigrated to the Bronx in NewYork when he was nine. He got his big break, true American-Dream style, dancing on Broadway in the lead role of Seán O'Casey in Grandchild of Kings.
With such a background,surely the stage was always his passion? 'I was really into GAA and soccer, as well as baseball when I was growing up,' he says. 'But my mum kept me at the dancing. I was constantly gigging,working with people like trad band, The Chieftains. 'It was only when I got to 15 or 16 I thought, "hey there mightbe something to this dancing — look how many girls are here.
"'But it was by his own steam thathe ended up in Riverdance.'I didn't tell my mother I was going, I just bunked off school for the day and went down to Boston where they were holding the auditions,' he recalls.
'If you'd told me I would have had a steady career with Riverdance for all these years, I wouldn't have believed you. I had a soccer scholarship to ?college but passed it up thinking the dancing career could end at any moment.'The rest, as they say, is history.
Pádraic has been with Riverdance since 1997 and has grown up with it, watching it transform into a global brand. 'People think Irish dancing is "Riverdancing" now, the two things have become one and the same,' he says.
'The next thing is Riverdance on Ice, working with Olympic Goldmedallist skaters — I won't be skating though. Then it's off to the White House in October to perform for Hillary Clinton.
Not content to rest on the success, Pádraic sees endless possibilities for the irish dance: 'I would love to take it to South America and incorporate elements of Latin dance. We're always experimenting, trying out new choreography. I've been experimenting with American tap recently. But we always keep the big numbers the same.'It's tough, and I've only had three weeks' break in the past 18 months. But not a lot ofpeople get to do what they love,so you have to remember that. It's a great job.'
Riverdance toured Derry Millennium Forum and then onto Killarney and Castlebar.