Niamh Ní Charra – Riverdance Fiddle and Concertina
September 1, 2010
Niamh Ní Charra, Riverdance Fiddle and Concertina performed with Riverdance during the September run at Royal Theatre Castlebar, Co Mayo
www.niamhnicharra.com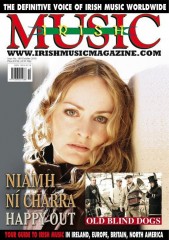 Niamh hails from Killarney, where she started playing music at the age of 4. An All-Ireland Champion on both fiddle and concertina, Niamh had supported The Chieftains and Noel Hill , in addition to performing at festivals throughout France and England, before reaching her teens. Having graduated with an honours degree in Electronic Engineering, she went on to study Sound Engineering and Music Law, receiving honours certificates in both. Since returning to the world of music, Niamh has toured Europe, Asia and North America with Riverdance performing in over 2500 shows. She released her debut album "Ón Dá Thaobh / From Both Sides" to much critical acclaim. She is now based in Dublin where she works both as a freelance musician and a respected music teacher at An Cultúrlann, the national HQ of Irish music. Her latest album Súgach Sámh/Happy Out is just released….
Review – The Irish Times – September 2010 – Niamh Ní Charra- Súgach Sámh/Happy Out Claddagh Records
Her virtuoso 2007 debut, Ón Dá Thaobh , laid firm foundations, and Killarney fiddler and concertina player Niamh Ní Charra has released a startlingly mature collection in Súgach Sámh/Happy Out that further sculpts her musical identity with both grace and danger. The lightness of touch evident in opening waltz set, The Strawberry Tree , resurfaces at keen intervals, but in between, every shade of emotion from muted delight ( The Blue Horse ) to teasing chant ( Cailleach an Airgid ) and belly-deep mournfulness (Jerry Holland's Lonesome Eyes ) underscore Ní Charra's breadth of emotional investment in her music. Her own compositions stand shoulder to shoulder with traditional linchpins, with the air, Fonn do Eithne , delving deep into the essence of what friendship can be. Her song choices are spare and wise, as is the accompaniment. A wonderful, unforced further step into the limelight.
Review – Irish Music Magazine – Niamh Ní Charra – Súgach Sámh -Happy OutOwn
An intriguing title – Súgach Sámh in Irish – for this outstanding Kerry musician's second CD. Her debut followed stardom with Riverdance, and album number two has taken time out of her touring schedule with the Carlos Nuñez band. Niamh plays fiddle and concertina, and sings in English and Irish – a new departure for her. She also presents four new compositions here, so she's been a busy bee since her previous release, and I have to say she's looking well on it. Niamh is joined by Robbie Harris on the auld skin drum, and by the original Lúnasa rhythm section, as well as a handful of one-track ponies.
A fluent Irish speaker, Niamh delivers two songs in Irish and one in English on this recording. I know Niamh was hesitant to add vocals to her performances, but the three examples here are a credit to her. Paddy's Lamentation is taken slow, mournful and low: no dramatics, just an honest delivery. Niamh provides her own concertina break in the middle. Cailleach an Airgid and Sé Fáth Mo Bhuartha are sung in a light clear voice: Niamh tears into the comic ditty with gusto, and backs this up with a fine fiddle version, while the lovesong is handled gently and features a sparkling accompaniment on zither by Niamh's father. It all adds up to a very impressive CD.
Happy Out could well be one of the best albums of 2010! www.niamhnicharra.com will give you more information on Niamh's recordings and live gigs.