Riverdance Welcomed to Raleigh
May 20, 2010
Kevin Horton, Dancer, Boyne Company
We have had a good deal of split weeks this tour, so we were glad to be in Raleigh, North Carolina for an entire week. Flying into Raleigh went rather smoothly and we were at the hotel early enough to enjoy the evening. The hotel was located right in the middle of downtown, so we were close to lots of restaurants, shops, and of course a couple of nice pubs to enjoy! The downtown area has changed significantly since the last time we made a stop there. Riverdance last visited Raleigh in 2007 and since then, it seems as though a new downtown had been created. An entire plaza with restaurants, fountains, and areas to enjoy the sunshine and cool nights breeze have gone up. An entire Marriott hotel has also been built in the time we have been away, adding to its skyline. It was a welcomed change to what the area used to be like and I think everyone enjoyed their week.
The week was special for three cast members; Maeve Croke had a birthday this week, and dancers Padraic Moyles and Niamh O'Connor celebrated their last week in the Boyne Company. In honor of the three of them, we spent Thursday night at a bar called White Collar Crime. Fiddle player Pat Mangan DJ'd the event and we all danced the night away. It was a great night out for the entire company.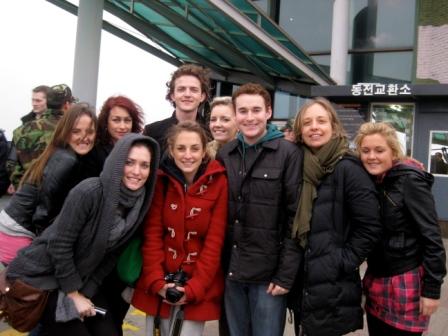 Padraic and Niamh have been an important part of the Boyne Company for some time and they performed their last show with us as the company is to close this June. They have a break for a couple of weeks then start up with the summer production of the Foyle at the Gaiety Theater in Dublin. We wish them luck to all of their future endeavors!
After Raleigh, we headed to Huntsville, Alabama and Norfolk, Virginia, so check back in with us later…
Kevin
Riverdance's week in Southampton
<
Riverdance final week in UK – Nottingham
>