Riverdance in Rochester and Buffalo, New York
March 12, 2010
Laura Yanez, Soloist, Boyne Company
Hello all. This week we headed further into the snowy north-east for shows in Rochester and Buffalo, New York. The beginning of the week, we were performing at the Auditorium Theatre in downtown Rochester. Our lighting electrician, Josh Moberly is from this part of New York, so his mother made us a huge assortment of delicious treats that were greeting us as we entered the theatre. There were so many, that they lasted through our run there and beyond!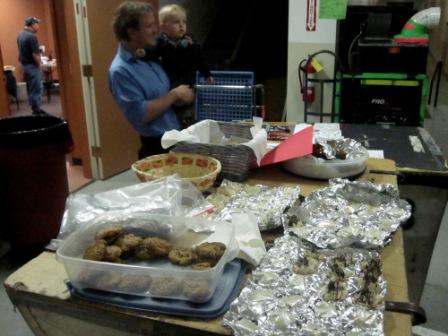 On Friday morning, before we hopped on the bus to Buffalo we all gathered in the hotel restaurant for an exciting morning event. Perhaps you remembered that it was Jason Bernard and Rocio Montoya's debut on "The Price is Right", because we certainly did! All of us grabbed some breakfast and cheered on our friends as we saw Jason get through the first round and make it all the way to the dollar wheel. He even did a little tap dance for host Drew Carey! It was so exciting to see the show and reminded all of us of how much fun we had in LA!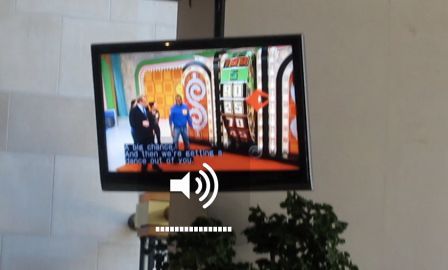 Once in Buffalo, we went straight into a show Friday evening and on through the weekend. I've toured to Buffalo before, and the town and especially the theatre have always stayed in my memory. The Shea's Performing Arts Center is stunning inside, with so much gold and velvet. The backstage is just as nice! I was so surprised to see that myself and the other featured performers had two dressing rooms each…to ourselves! It was nice to stretch out for the weekend and to warm up as loud as I wanted to!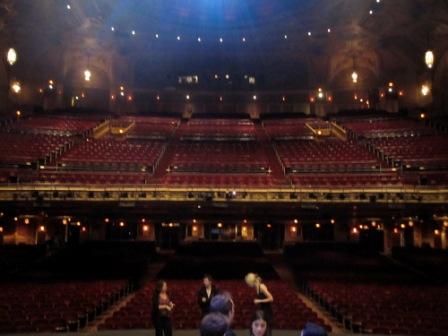 Shows went smoothly, with a surprise cake for birthday boy Irish Dancer Patrick Coyne from the bakery next to the theatre. They even gave us a free scoop of ice cream in between our Saturday shows. As we were leaving Sunday night to catch the Academy Awards, we were caught by surprise by the theatre's marquis. Look at the message they left for us as we headed away: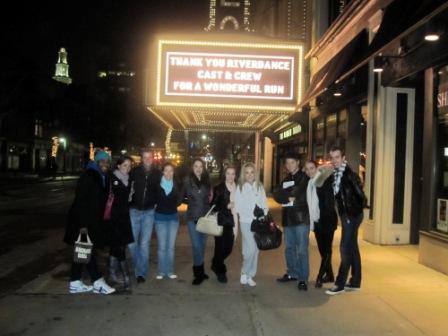 On Monday, we head on to Manchester, New Hampshire for a show at the Verizon Arena. Talk to you then!
Laura
Interview with Riverdance Tapper Jason E. Bernard
<
Riverdance in Manchester, NH and Wallingford, CT
>