Riverdance Boyne Company in Youngstown, OH and York, PA
March 8, 2010
Laura Yanez, Soloist, Boyne Company
On Monday morning we headed through the snow to Kansas City Airport to fly to Youngstown, Ohio. This former steel town close to Pittsburgh has been the source of many songs, including a dramatic and historical one by Bruce Springsteen. I found it in my head constantly through our time there! It was snowy with a chilling wind, so it was very lucky that we had several restaurants only a few steps away from our hotel.
Our venue in Youngstown, Power's auditorium was actually an older theatre attached to a complete other new facility. Finding our dressing rooms was a little like being in a maze, complete with crossing under the stage and several flights of stairs to get to stage left or right! Despite the chill outside, the audiences were quite amazing in Youngstown – the energy they gave us really pumped up the show every night.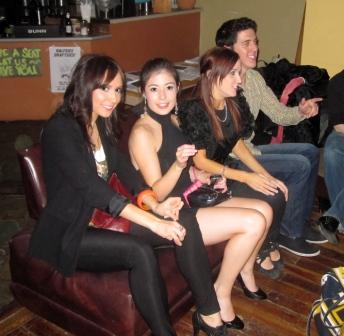 On Wednesday, Irish Dancer Meghan Lucey had her 21st birthday and we all headed to a local bar for food, drinks and karaoke. Everyone took a turn at the microphone…even the birthday girl herself!! Meghan had a great night and felt very glad to have all of her tour friends to share the night. I was quite impressed with everyone's karaoke performances, and at the end of the night we all got onstage together to sing a very loud version of "New York, New York" complete with a kick line. It's not long now until we will be in the city that never sleeps!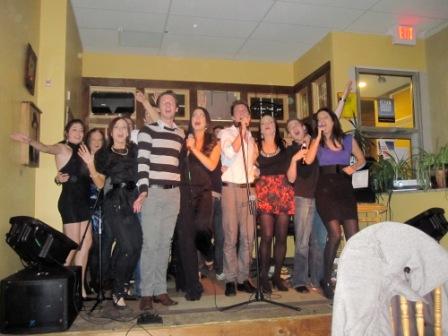 Across the street from the hotel was one of America's most famous ice cream parlors, Handel's Homemade Ice Cream and Yogurt. A few of us braved the snowy wind and stood outside as we waited for our sundaes to be created. This shop is a favorite of such celebrities as Tom Cruise and Bill Cosby and we enjoyed our scoops once we were back inside the warm hotel.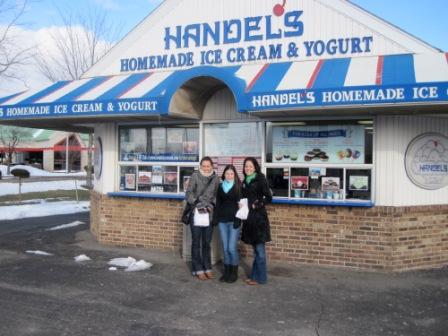 On Friday, we traveled to York, Pennsylvania for a weekend of performances. This city was quite beautiful, with historical paintings and statues on every block. Even where we were staying, The Yorktowne Hotel, was a historical landmark. The area looked straight out of a scenic, snowy postcard and some of the dancers decided to get up early and go sledding in the snow!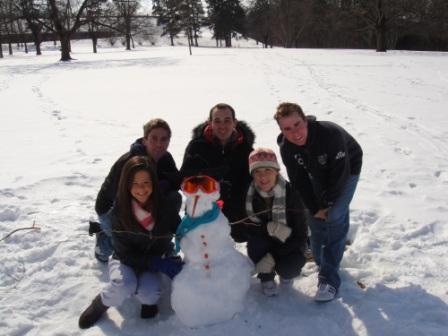 After our Friday show, we said goodbye to Irish Dancers Kevin Horton, Niamh O'Connor and Padraic Moyles as they headed off to Seoul, Korea to join the Bann Company of Riverdance once again. In the meanwhile, we said hello again to Billy Kanaly and John Grimes. I find it amazing how the Irish troupe can change from week to week but the show remains the same every night! On Sunday, we had two shows at 11 am and 4 pm. No one had ever had such an early performance of Riverdance, but I found it surprisingly fun! I had no idea we all had that much energy so early in the day, and it was nice to be done for the week at only 6 pm. We spent the evening at the local Irish Bar, Maewyn's. Musicians Pat Mangan and Declan Masterson were joined by a few local Irish musicians, and even dancer Ciara-Lee Jenkinson joined in with some spoons. It was a great night of songs and relaxing after a long week.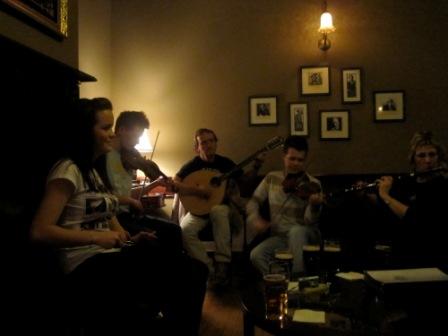 Monday, we head to Rochester, New York and then on to Buffalo. Talk to you then!
Laura