Our Final Two Stops!
July 2, 2009
Kevin Horton, Dancer, Boyne Company
It is hard to believe that we started our tour 6 months ago. The city we began in was Orlando and time definitely flies when you're having fun. Our final week was split between two cities, both very different. On Monday, we headed two hours to London, Ontario. It was a travel show day, so there was not much time before the show. The hotel was located about 15 minutes from the downtown area, so a bunch of the cast took the early bus to the theater to explore the city for an hour or two. There were plenty of shops and restaurants that lined the streets, so it was a shame to have the hotel so far from this area. Next to the venue, there was a massive market filled with different vendors, everything from Chinese food to smoothie shops to flower shops. It was interesting to walk around, and we didn't know where to go first!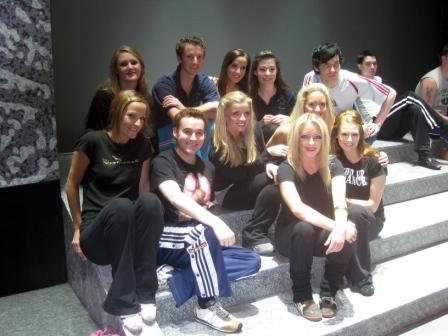 The venue we played in was the only arena of the entire tour. Arena's are a different set up to what we usually have and it is a nice switch. We sold out our three shows in London to nearly 10,500 people and the crowds were amazing. Our time was short here and before we knew it, we were on the way to Vienna, Virginia. On Thursday, we drove back to Toronto and caught a flight to Washington D.C., which is right near Vienna. Vienna is the home of the Wolftrap Farm Park outdoor theater. The theater is open-air with seating in the grass at the back. Riverdance has performed there 12 years in a row, running every summer. It is always a treat to return, minus the bugs flying around on stage and dancing in 85 degree weather of course!! Since the theater is in a park, obviously no hotels are within walking distance, so we stayed about 15 minutes away. There are two massive malls across the street from the hotel, so plenty to keep the cast busy as well as making sure our suitcases are overweight when flying home!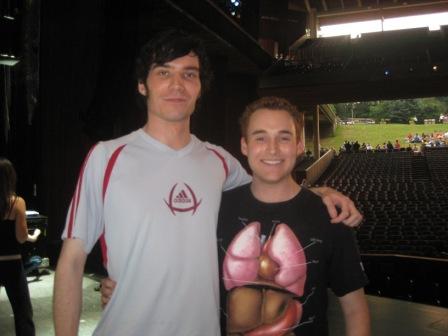 At one of the shows, we had a visit from the Irish Ambassador to the United States. We were all able to meet him following the show and he had nothing but nice words about our performance. It was a great honor to finish out the week.
It is always strange leaving the end of a tour, getting back to normality is just like adjusting to arriving at tour, but we were all very excited to get home to friends and family. I have enjoyed this tour a great deal, traveled to many great cities, and had the pleasure of working with an amazing group of people. Thank you so much for reading my tour blog and I look forward to new experiences when the Boyne goes back on the road in September. Until then, take care…
Kevin