South Bend, Indiana and Appleton, Wisconsin
May 26, 2009
Kevin Horton, Dancer, Boyne Company
We left Detroit on Monday and arrived rather early in South Bend, Indiana, the home to the University of Notre Dame. This week is the first of five split weeks we have in a row, meaning two cities a week. A rather hectic schedule like this doesn't leave much time for sightseeing, but we were fortunate to have the afternoons free to roam the campus of the University, visit the bookstore to buy t-shirts and other memorabilia, and check out the local town. The hotel was located right across the street from the theater, so it was nice to have a short walk to the venue. I really enjoyed the downtown area. There were many shops, restaurants, and little boutiques to keep us occupied. Also, there was a mall that was only a taxi ride away for everyone to enjoy a bit of shopping.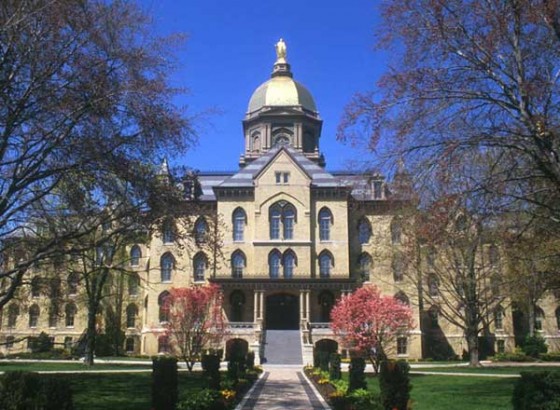 The campus of Notre Dame was not too far from the hotel, so a handful of us went to the bookstore to buy t-shirts of the Fighting Irish! The campus is very picturesque, so it made for a great stroll to take up an afternoon. The rest of the week was pretty quiet, just spent relaxing the hotel and taking use of the hotels indoor pool and gym facility. We left for Appleton, Wisconsin on Thursday morning and it was only a short bus ride.

I was quite surprised with the city of Appleton. The downtown area was rather large and we had really nice weather while here, about 75 degrees the entire weekend. Appleton is home to Lawrence University, so having students around always boosts night activity and many clubs and pubs surrounded the downtown area. Dancer Jemma McSloy had her family visiting from London for her 21st birthday celebration, so we spent the night at a great little Martini Bar that had live music. The music consisted of just one guy playing his guitar with backup music coming through speakers. It made for a great night of laughs and a great way to help celebrate Jemma's birthday.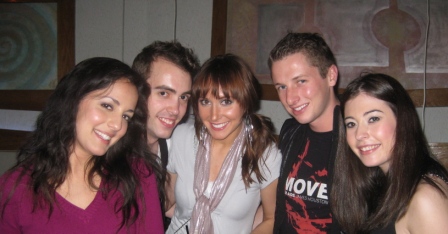 There was a small little Tapas restaurant right near the hotel. They usually close at 10, but offered to stay open on the Sunday night for a closing party. They put on a really nice array of Spanish Tapas food, had drink specials, and let fiddle player Pat Mangan use the DJ booth for music. Pat has become quite the tour DJ, having played at parties for us in many cities. His is very creative with his music and kept the party going until early morning!
Next time, I will be writing to you from Rockford, IL and Indianapolis, IN. Until then, take care…
Kevin