Riverdance visit Gilda's club in Toronto
October 20, 2005
By Merle Frimark
On Thursday, October 20th, during their 2-week engagement in Toronto, principal dancers Padraic Moyles and Melissa Convery, along with fiddler Alexis MacIsaac, paid a visit to Gilda's Club of Great Toronto.
RIVERDANCE has enjoyed a special relationship with Gilda's Club Worldwide, having sponsored their 10th Anniversary Gala in spring 2005  in New York, which also coincided with RIVERDANCE's own 10th Anniversary this year.
Gilda's Club is a free, cancer support community where men, women, teens and children living with all types of cancer, and their families and friends, come together for emotional and social support as an adjunct to medical care. Since opening in Toronto in October 2001, the need for social and emotional support in the cancer care community has increased considerably and Gilda's Club is committed to providing initiatives of the highest quality to anyone touched by cancer at anytime.
"The opportunity to experience an intimate visit by the lead dancers of Riverdance was tremendously inspirational for our membership and gave them the chance to leave behind, if only briefly, the challenge of life with cancer and be inspired to the possibilities of change in their daily lives. Being so close to the energy of such remarkable dancers certainly served to uplift the spirit and enrich each person." – Judith Wiley, Executive Director, Gilda's Club Greater Toronto.
When we walked through the big red door which is the Gilda's Club trademark, we entered a wonderful place. A large audience of Gilda's Club members were waiting for Padraic, Melissa and Alexis.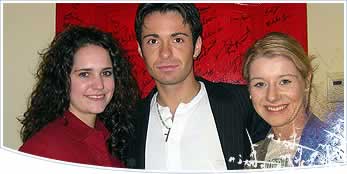 Alexis MacIsaac, Padraic Moyles and Melissa Convery
A brief Riverdance video was shown and then the performers took questions from the crowd. The members had lots of questions to ask while Padraic and Melissa's Irish dance shoes were passed around the room for all to see. "Don't smell it" someone shouted! Everyone laughed.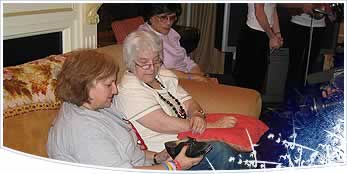 Irish Dancing shoes are passed around
Padraic and Melissa knew the members were eager to see them dance. So while Alexis played 'Riverdance' on her fiddle, Padraic and Melissa did their famous Riverdance twirl – all to lots of squeals, cheers and applause from the crowd.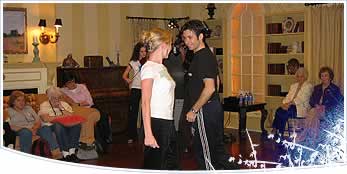 Melissa and Padraic dance
It was a most happy and relaxed atmosphere and everyone was waiting for their Irish dance lesson! Padraic and Melissa asked everyone to stand and line up in rows, one behind the other. Then they proceeded to teach everyone a few basic steps. Everyone shuffled as best they could, laughing and having a great time. There was special attention given to the children as well, some of whom have a form of cancer; or who recently lost their mother to the disease.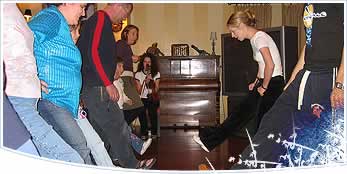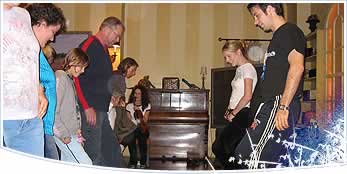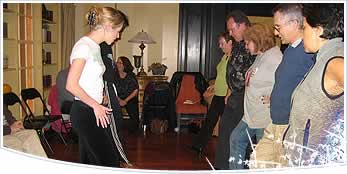 The Irish Dancing lessons were very popular!
Once the lessons ended and autographs signed, we were all treated to some wonderful Irish stew and soda bread. It was a most welcome treat for us on that very chilly day. We gathered our things and said our goodbyes. People were very emotional and many members were in tears. They all thanked us for coming and brightening their day.
And they brightened ours as well.
Story and photos: Merle Frimark, Riverdance North American publicist