Colin Dunne joins Riverdance for One World Jam in Radio City Music Hall
July 1, 2002
The Riverdance Flying Squad's latest appearance was in New York this July to perform in Radio City Music Hall, as part of the 'One World Jam' Concert, a new initiative by 7-Eleven. It was a particularly exciting event as Colin Dunne made his first appearance with Riverdance since leaving the show in 1998.
The show kicked off with rapper Nelly singing his number one single 'Hot in Here' and was followed by a string of well-know artistes; Chicago, Souljahz, Bond, Boyz II Men, and Elton John, to name but a few. The atmosphere was electric in the packed venue and the MC, actress Rosie Perez, kept things moving along swiftly.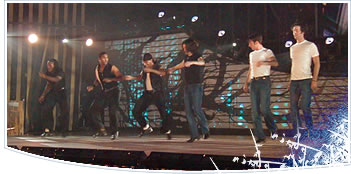 Colin Dunne, who originally choreographed 'Trading Taps', stepped back into the lead role for this occasion and did so with great ease. During the week's rehearsals he worked hard with the team, introducing subtle changes that really spiced up the number. He also put together two fantastic solo pieces, which would later bring the house down.
His counterpart, lead tapper with the Liffey show, Walter Sundance Freeman, rose to the challenge by producing two equally amazing solos – a thrilling 'Trading Taps' was in store for the RCMH audience.
For Walter, Rogelio Douglas and Padraic Moyles it was an opportunity to perform in their hometown and each had several family members there on the night. Fiddler Maria Millar, having recently spent time in the Lagan Company, enjoyed her first Flying Squad experience and saxophonist Ken Edge, tapper Channing Holmes and Irish dancer Joe Moriarty, who are no longer full-time Riverdancers, had an opportunity to catch up with old colleagues.
Other performers were excited to hear Riverdance was in 'da house' and a message was sent up to the rehearsal room that 'Boyz II Men' would love to have the opportunity to get a photo taken with our boys, if we didn't object…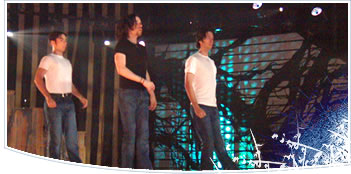 Spirits were high when performance time came. When Trading Taps from Riverdance was introduced the reaction from the audience was overwhelming. As Ken Edge began playing the sax and the American tappers moved downstage the audience showed their enthusiasm by a round of applause. Shortly after, when Maria Millar, on fiddle, entered with the Irish boys there were cheers from the crowd…and the best had yet to come!
At the end of the performance the auditorium erupted and there was a full standing ovation from the Radio City audience – the only ovation of the night and well deserved, if you ask me!
Photographs by Merle Frimark and Susie Sheil