All you need is Love…oh and Riverdance in Liverpool
November 7, 2014
I still cannot believe its week 9 of the UK tour with the Liffey Co. Where have all these weeks gone? You could say we all sang our way into Liverpool as many of us were excited for Halloween and of course The Beatles…as it was the birth place of the famous boy band. Our 8 shows took place at the Empire Theatre, where once again we were beyond amazed at the audience's reaction every night. And we thank you all so much.
This week consisted of birthday celebrations as we celebrated Katie Hands birthday at a funky teppanyaki spot for dinner called the Sapporo Teppanyaki Restaurant. It was a great night filled with amazing food, great company and a hilarious chef who liked throwing food at us! Dancers getting sick and unable to dance…where we were very thankful for Sean Regan once again helping us out and Maeve Fearon. Another topic of Liverpool was the haunted hotels and mythical stories.
The hotel we were staying in was believed to be haunted which was perfect as we celebrated Halloween. I was extremely excited for this event as back in Australia we don't really get dressed up or go trick-or-treating. So it was kind of a big deal for myself and fellow aussies, my sister Natasia,Ceili Moore and William Bryant. I ended up going as one of the twins from the film The Shinning with Siobhan McSharry. We made our outfits the night before and only ended up spending 10 pounds. My room mate went as Regina George from the film Mean Girls and did a pretty good job at making her head brace out of a food strainer and tin foil plates. I would like to say thank you to our Tour Manager Laurie Small and our Production Stage Manager Orla Griffin for putting on this amazing night. The venue was 'SPOOKTACULAR!
To finalise this post, I would have to say the highlight of my week was of course the many attractions of The Beatles. You could say I caught the Beatlemania bug. On Wednesday Ceili, Ciara, Julia, Ryan and myself ventured off to the docks to the Beatle Story Museum. It was great learning about the history behind the band and how they became the band that everyone was crazy about all over the world. I personally loved looking at all the quotes and rare photographs scattered everywhere. One in particular by Paul McCartney…'there are only four people who knew what the Beatles were about anyways.'
We are currently in Edinburgh. We arrived here on Monday night after a very long bus trip. I have been for a small wander today and it's absolutely beautiful. Keep up to date with the latest news via our Facebook and Twitter pages. You can also follow Riverdance on Instagram: @riverdanceofficial and myself on Instagram: @gianna93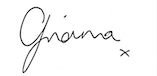 Kicking off the China Tour
<