Limerick City of Culture launches the Riverdance 20th Anniversary World Tour
November 18, 2013
Book Online:  www.uch.ie
Box Office:  061 331 549
Limerick National City of Culture 2014  launches  the first major performance of the
year-long programme – The Riverdance 20th Anniversary World Tour.
with
Bill Whelan – Composer
Moya Doherty – Producer
and
 Principal Dancers
James Greenan & Chloey Turner
The launch will be attended by city native and Riverdance composer Bill Whelan for whom the January 16th -19th performances of the internationally acclaimed show will be a proud personal homecoming.  Also attending will be Moya Doherty, co-founder and producer of Riverdance and Principal-dancers in the show James Greenan and Chloey Turner. Limerick National City of Culture 2014 will be represented by CEO Patricia Ryan and its Artistic Director Karl Wallace.
The Limerick performances will be the beginning of the Riverdance World Tour to mark the 20th anniversary of the show, which had the world gasping in awe as it burst onto screens in the seven minute interval at the 1994 Eurovision at the then Point Depot – a moment that proved to be one of the most magical ever in the proud history of Irish culture.
"When I was growing up in Limerick I used to dream about making music my life. I could never have imagined that one day I would be bringing a show which had spent 20 years touring the world back to my own birthplace. To do so as a celebration of Limerick as the 2014 National City of Culture has made that dream even more special. I am delighted to see Riverdance finally on stage on the banks of the Shannon and so proud as a Limerick man to have been part of its creation."
Bill Whelan, Composer, Riverdance
"It's very fitting that we start our 20th anniversary celebrations for Riverdance in Limerick, the home of our composer Bill Whelan. When Bill and I started to work on the Eurovision interval act in 1994 little did either of us think that 20 years later, not only would Riverdance have grown into a world-wide phenomenon that has been seen by over 23 million people, but that we would be mounting a 6-show run in a specially created 2,500 seater theatre in Bill's hometown!
It has long been my desire to bring Riverdance west of the Shannon but it is only now, in Limerick's year as the City of Culture that it has been possible to mount such a large-scale production in the Sports Arena in the beautiful grounds of UL and we look forward to playing our part in launching what I'm sure will be a wonderfully exciting year for the city and the people of Limerick. "
Moya Doherty, Producer, Riverdance.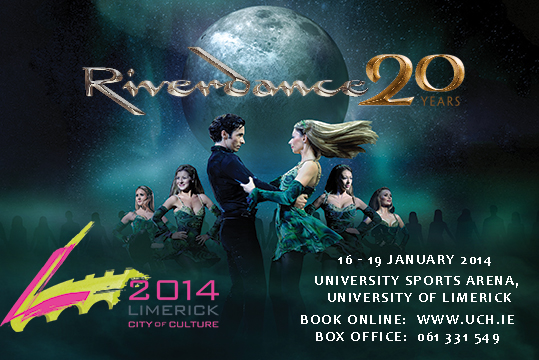 Riverdance 20th Anniversary - Return to Belfast
<
Riverdance is Ireland's favourite TV moment
>