Maria Buffini – My two careers
July 26, 2013
Maria Buffini – Lead Dancer with Riverdance and Graduate Medical Student
"I joined Riverdance after I completed a science degree in NUI, Maynooth, in 2005 and became lead dancer with the show in 2007. During the past year, I've had time to reflect on how great an experience it is to have been a part of the show. Combining a career I love with the amazing places I have visited, people I have met and audiences applauding every night makes for a unique and irreplaceable experience. I'm not sure that anything else could give me the feeling that I get at the end of a great show"
"I will always remember the atmosphere in the room after performing for Queen Elizabeth II during her visit to Ireland in 2011. Also our recent performance for First Lady Michelle Obama was a very memorable occasion. My first lead performance in Chicago in 2007 was a highlight and my parents flew out to see the show."
"I was very happy touring with Riverdance, but I think a turning point for me came when I broke my foot on stage at the Gaiety three years ago and was out of action for five months. It made me realise how fleeting the nature of a dancer's career can be and I began to think about what I was going to do in the long term"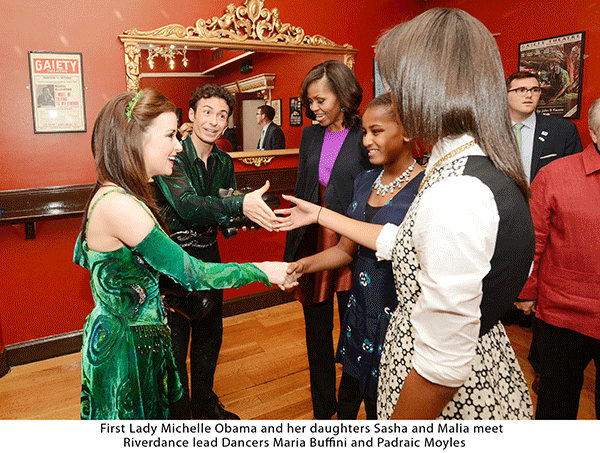 "I have always been really interested in biology and am fascinated by how the human body works. So I began to study while on tour for the Graduate Medical School Admissions Test (GAMSAT) and after I sat it last year I was offered a place on the graduate entry programme in medicine at the Royal College of Surgeons in Ireland. I decided to stop touring and began the course in September 2012."
"It was definitely a difficult transition going back to study and trying to get my brain to function again after seven years with the show. However because it is graduate entry course all of the students are a little older so I didn't feel too alienated in that respect. It is also very difficult getting used to having no weekly income."
" When I started the course it was very strange for me as I suddenly had a completely sedentary lifestyle and barely had time for any exercise, never mind dancing. I really missed it. Riverdance has a Flying Squad of musicians and dancers that perform worldwide at events and corporate functions. I did some Flying Squad gigs this year, one of which was an amazing trip to India in January which fitted very conveniently with my study weeks! So it is great to be able to put the shoes back on and catch up with every one at those kind of events. Once I learned that I would be part of the Gaiety cast for the summer, I began making a concerted effort to fit more dancing in. I hope to achieve a better balance of the two in the future."
"As I'm only in the first year in medicine the course has been mostly theory based. We begin practical experience in August. I like the variety within medicine, as there are many different possible specialties to pursue and no two days will ever be the same. It is also exciting to think that one day I will hopefully, be equipped with the skills to help people."
Maria Buffini was interviewed by The Herald.
Maria performs with Riverdance at the Gaiety Theatre until 1st September 2013.
TV3's Ireland AM joins the longest line
<
Dublin GAA squad took some tips from Riverdance
>