"Back in the day" – Reminiscing about Life on Tour with Riverdance in the 1990's
February 13, 2013
Maeve Fearon, Irish Dance Troupe, China Tour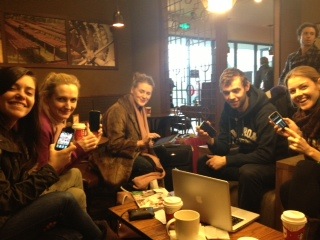 I've just received a picture of the crazy snow at home from a friend. The picture, sent via an application on my iPhone known as WhatsApp..one of the vast number of iPhones  amongst the troupe is what helps us through days when we really miss our loved ones at home.  Undoubtedly, being a dancer in  Riverdance is a dream come true, touring the world, doing what you love.  But, it is difficult being away from family and friends for long periods of time. Sitting in my hotel room in Changsha, it made me wonder about Riverdance in 1994 "back in the day" and how difficult it was keeping in contact with loved ones when lets face it, there were very little methods of overseas communication.  Speaking to Niamh O'Connor, my dance captain and the only original dancer from the show from its inception, I try to gain an understanding of how things have changed.
"There was no such thing as the internet. The only thing we could do was buy phone cards to phone home with. In fact, just before I came on tour, I found all of my phone cards that I had kept down through the years. There were hundreds!". Siobhan Manson, also pipes up "Oooh phone cartin bitin" and Maeve Croke and Alana Mallon begin reminiscing about their time in Germany, searching for phone cards in the hope of hearing a familiar voice so far away from home.  Maeve explains that it's so much easier these days. She also swears by Whatsapp and tells me she loves her little group conversations with friends. The only time she avoids them is when they start to organise nights out at home!
Skype is also a great method of communication and it's not uncommon to see someone with headphones in waving at their phone. In China, the internet connection in some of our hotel rooms is dire so with free wifi in the lobby, you are likely to find swarms of us online there after the show.  It's particularly useful for the likes of Conor Downey from our crew who has just recently got married and has a young child at home and another on the way!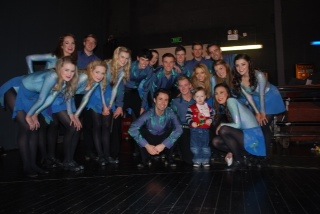 Brendan McLaughlin, production manager also has a young son Daniel, who along with Brendan's wife Catherine came out to visit over Christmas.  Not only was this fantastic for Brendan, but we all enjoyed having Daniel around, and he's such a character an kept us all entertained!  The accessibility and lower cost of flights makes a better Christmas possible for people like Brendan. It also paves the way for impromptu visits from Nicola Dempsey's boyfriend Adrian who was able to spend Christmas with her and Peta Anderson has just welcomed her beau Brendan who has just joined us…all the way from Australia!
Interestingly however,  Niamh tells me her family would have visited a lot more years ago particularly as tours back then were longer. But now, with more ways of keeping in contact, less so. "We used to be so happy having people come out to visit all the time. You could also write a long list of things you wanted from home!  But now, things are a lot better especially because you always know what's going on so you don't feel like you miss out on anything"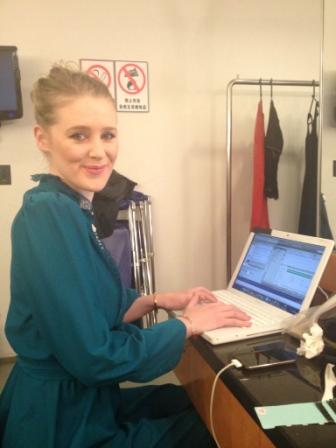 This brings me onto all the little 'home comforts' we miss. I, for one am counting the days to a good ole mug of tea and slice of McCann's toast with melted Golden Cow butter…yummm!  Since it's nearly the end of our tour, I took the liberty of asking people what they are looking forward to most.  As I was expecting, there was a resounding agreement that food would be right up there on the list but of course, seeing family for the first time in 12 weeks was definitely top of the list.