Food, Glorious Food.
February 4, 2013
Fiona McCabe, Irish Dance Troupe, China Tour
I have always been fascinated by cultures and a countries traditions, but in particular cuisine and food. So, upon agreeing to this tour I polished off my palate and decided to really absorb all the tastes of food that China had to offer.
Whether its walking down the street at night, waiting at the train station or simply standing outside a bank there is always someone eating something. Now as I mentioned in a previous blog, I am adventurous but I am no Anthony Bourdain or Andrew Zimmern. I wouldn't last too long on the Travel Channel's 'Bizarre Foods' however, I have put together a list of strange and bizarre foods that I have seen, touch, smelled and even heard, but taste, eh, not necessarily! I usually have my camera on standby but since I consider myself more of a blogger than a photographer, please excuse the amateur pictures. (I leave them professional photographs to my roommate, Nicole McKeever!)
A regular occurrence:
Seeing chunks of pork, chicken and fish (including fish head) hanging from crooks outside apartments, small food stores and or simply strung across a clothes line down lanes and alleyways. This may seems unusual to us westerners however this is a very ancient practice here in China (rooted in the south over 2,000 years ago). This is known as 'Lawei'. Firstly the meat is marinated in salt and spices for several days before being hung outdoors to dry in the sun. Lawei can vary from region to region, depending on climate and temperature and annoying mosquitoes. Some regions preserve pork by slicing it and wrapping it in pig intestine to savour the flavour!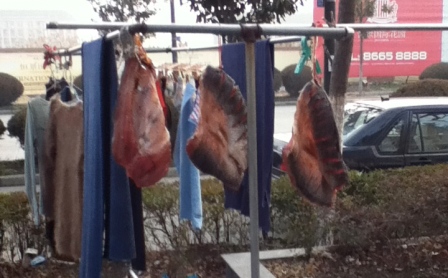 Wall Mart:
Let's just say the one in downtown Yantai is not like your regular branch in Orlando, Florida. The grocery section is usually split up into dried foods and processed foods in the first floor and fruit, vegetables, meat and 'live' foodstuffs on the ground. Feast your eyes, I dare you! Always bearing my Riverdance blog in mind, I've reached for my camera and snapped at the poor live frogs, turtles and the not-so-fortunate severed poultry and their body parts. Wall Mart here is not your typical oh-so-friendly Saturday morning shop but rather an explicit display of all God's creatures. Leave the kids at home.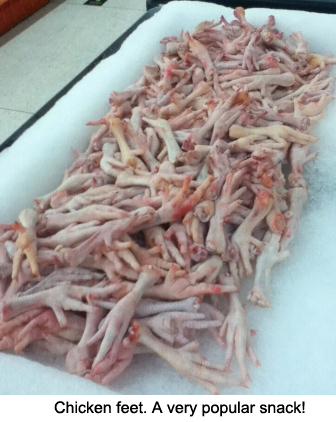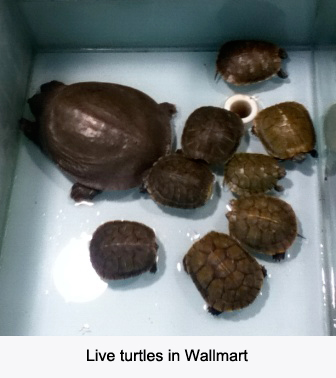 Beverages:
"Not for all the tea in China":  Being Irish, I do love my tea and having said goodbye to Barry's tea bags I have not shed a tea-r since! Bubble tea, green tea, yellow tea and oolong are to name but a few of the hundreds of different types of blends. Tsing Tsao piju (beer) and Great Wall red for wine lovers is all on offer but next on my agenda is to taste a cup of the ginseng blended drink on offer in many family style restaurants here. To be drank in cycles and not for more than three months at a time, I am ever curious about this ancient root which so many Chinese people believe brings longevity and good health to those who indulge. Here's hoping I can take some home with me.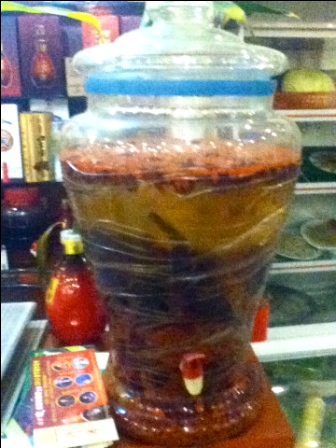 Enough is enough:
In the city of Qingdao four girls decided to take a break from the frantic Chinese cuisine and tucked into a fine helping of hamburgers and french fries in the quaint cafe 'Deja Vu' across from our hotel and venue. Many thanks to the proprietors for serving us endless amounts of chicken nuggets, salads and mouth-watering tacos for the duration of our stay.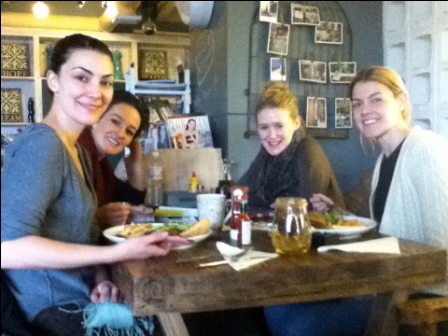 Menu Options: