Meet lead dancer Caterina Coyne
December 10, 2012
As one of the lead dancers in Riverdance, Caterina Coyne has travelled all over the world and performed to audiences of hundreds of thousands of people.
Born in the UK to Irish parents – who moved back to Ireland when she was still in school – she always had a keen interest in Irish dancing. After many years of hard practice, she decided to follow her dream of becoming a professional dancer.
She has danced in prestigious venues such as Radio City Music Hall in New York and the Gaiety Theatre in Dublin. Now she is in China for a ten-week tour, where she will perform to an expected audience of 86,000 people across 24 major cities.
---
How did you first get into Irish dancing?
Well, I was actually born in London. Both my parents had emigrated to England when they were young and my mum sent myself and my two sisters to Irish dancing classes. And then when we moved home back to Ireland, I kind of just loved it so much, I immediately went to a dancing class and kept going all the way through high school.
My parents probably wanted us to do something traditional while we were in England so that's how it all started.
How does it feel to be a part of Riverdance?
I remember watching the Eurovision on TV and so many Irish dancers say the same thing and seeing Riverdance. It was just one of those 'wow' moments that I don't think I will ever forget and I thought 'I'd love to be able to do that.' To actually be in it eight years on, in the show as one of the lead dancers, sometimes you have to pinch yourself and remind yourself how lucky you are to be part of something so special.
What age were you in 1994 when Riverdance performed on the Eurovision stage?
I was 13. I always loved dancing and I always imagined doing something in the dancing world. There wasn't anything for Irish dancers really so it gave Irish dancers a goal to achieve, or something to become: a professional Irish dancer.
A lot of people say 'oh, you're a professional Irish dancer. How does that work?' But all of the dancers in Riverdance train like athletes to be in the show. To sustain a six or nine month tour, you have to be so, so fit, and we can call ourselves professional dancers. Before Riverdance there was nothing like that. So it did put Irish dancing on the map, so to speak.
What is your training regime like?
At the moment I'm just trying to get fit. I've been off for a while – the last tour was I did was the Gaiety one during the summer, which we do every year. This coming summer, 2013, would be our tenth year so it will be big.
I've been off for a while so I'm literally working out 4 hours a day to get ready for the China tour. A bit of gym, a bit of hot yoga – it's good for the muscles and getting that flexibility back that you lose. After three weeks of not dancing, it amazing how unfit you can get, not to mention three months!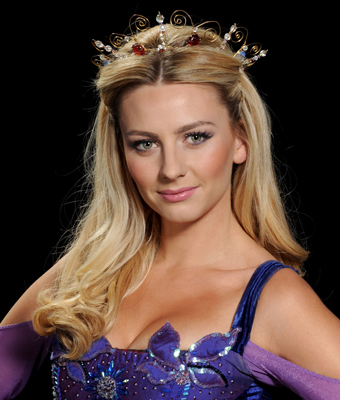 You're heading off to China this week – what can you tell us about the tour?
Yeah, I've never actually been to China before so it is definitely going to be an experience for me. I've been talking to a lot of the other cast members who have been to China before, and one of the things that everyone talks about is the lack of options for food, or maybe not actually knowing exactly what you're going to be eating, so to bring your own little bits along if you can to eat if you're starving of the hunger!
As far as I know we have a show almost every day. We travel one day a week, be it a Sunday or a Monday and that's also our day off. But apart from that, we do a show every single day.
Are you looking forward to it?
Oh, I'm really looking forward to it, I can't wait! Like I was saying, I've been lucky enough to tour America for the past seven years and I've been on that company for that length of time so I've never actually been to that side of the world before – and I've never been to China before – so it will be an experience.
I hope that I get a chance to experience it as well because sometimes it's hard – you know you get to travel to all these amazing places with the schedule, sometimes two shows a day, it's very hard to get out and see some of the cities. All you get to see sometimes are the hotel and the theatre, which can be a bit disappointing if you are in Beijing or somewhere amazing like that.
So how much downtime will you get?
To be honest, I don't know that yet, I'm sure we will. I know in the bigger cities we're sat down for a little bit longer – we will have maybe four or five days in one place so we will definitely be able to make time to go out and see a few things. But sometimes we do move every day, or every other day, so that makes it a little harder.
Are your family planning to visit you at all?
I don't think so! I was trying to question them to see if they would be interested in coming over around Christmas time, but I don't think they'll leave the comfort of their own home to trek across to China unfortunately.
How does that leave you for Christmas?
Well my fiancé is actually the drummer in the show so I don't feel so alone. I kind of have someone there with me the whole time so it's nice! I'm not completely by myself.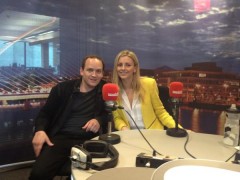 Is it difficult being away from family and friends for a long period of time?
It can be. It is a lot easier in places like America – when we did Radio City in New York a few years ago, my mum and my sister came out to visit me. Well, I'm not sure if they came for me or the shopping!
But they came to New York and they came to a few other cities to visit me, but it is hard when you're away for six or nine months of the year. You miss the small things like birthdays and anniversaries and things like that so it can get a bit tough.
On the flipside, what has been your best experience so far?
Dancing lead in Radio City was probably one of the highlights of my career and my family were there to see me dance in such a prestigious venue, which was quite amazing. And also the first time my family came to see me ever dance lead in a show was a special moment also.
Why do you think that Riverdance has captured the imagination of people in China?
The reason why Riverdance is so special and the reason why it has kept the standards of the show for so long is because it has that 'x factor' I guess, something that you can't explain. It's the music combined with the choreography.
The Chinese people are quite reserved and it's considered quite rude to interrupt a performance or cheer or clap. But you can see the Chinese people and you can tell they are loving it and they're so enthusiastic. When you're over there in a country like that and you can see them, I suppose, changing the way they usually behave when they watch something like that.
Does that impact on the performance?
It definitely helps when you can tell that the audience are really, really loving it, and you definitely feel that on stage. You feel that appreciation from the audience every night you get a standing ovation, and it's just an absolute pleasure to be part of something like that.
Caterina was interviewed by Worldirish.com