Our Riverdance romance
August 15, 2012
Interview with www.independent.ie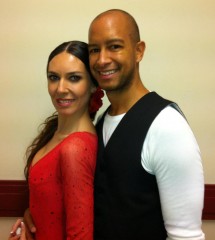 When Rocio met Kelly, she had no English and he had no Spanish: but the language of dance was enough ..
When Riverdance flamenco dancer Rocio Montoya first met tap-dancer Kelly Isaac on a Japanese tour in 2005, they were instantly attracted to one another. There was a slight problem, however — the Spanish beauty spoke no English while the gorgeous American hadn't a word of Spanish. Happily, by the time they got together in 2008, she had learned a bit of the language, but still found other ways to get her message across.
"We communicated with our eyes," explains Rocio. "I'm a very passionate character and use my eyes to be expressive. And we also used Google Translator a lot."
It was while celebrating another cast member's birthday in Stockholm that one of the Irish dancers, Damian, nudged the two in the direction of one another.
There had been lots of looks and both had expressed a definite interest up to that point, but it took the gentle persuasion of a third party to seal the deal. Kelly thought Rocio was beautiful and she thought he was "guapo" — meaning handsome.
Kelly was determined to learn Spanish, so he went through the whole range of Rosetta Stone courses, studying on the tour bus as Riverdance travelled through Europe. By then, Rocio had picked up a bit of English, and she says that Kelly was very patient in teaching her. He also understood her when she let flow in Spanish.
Having been inseparable since they got together, they got engaged in Rocio's hometown of Granada a couple of months ago, but nothing went according to Kelly's grand plan. Rocio knew the engagement was coming, as she had tried on rings at Kelly's insistence, but she didn't know when the big moment would occur. He decided to pop the question on a four-day visit to her family, but was thwarted twice.
"There was a family lunch arranged, so I was going to do it at that so she could share it with her family," he says. "Then some family members were unable to make it so it got cancelled." The following day, Rocio was rehearsing with her flamenco troupe (she is choreographer for a Spanish group called Alhambra Baila) and Kelly decided it would be nice to do it in front of her friends there, but that fell apart as well. In the end, he proposed while they were sitting in a car by themselves.
Rocio said yes, but when she excitedly waved her finger at her family over dinner, they looked at her with some bemusement. Even when she said there would be a wedding, they wondered who was getting married, she laughs.
"It is not common to get engaged and have a ring where I am from, so they didn't really understand at first," she explains. Happily, they were thrilled when the penny dropped, and are looking forward to the wedding there next June. Kelly's family will be making the trip to Spain from Maryland. He is an only child, but his parents, Skip and Karen, are very much looking forward to the occasion, as is his adored daughter, Kailei, 10, from a previous relationship. And we presume a few Riverdancers will be tapping their way into the wedding celebrations.
It's hard being on the road so much when you have a child, Kelly explains, but he visits as much as he can, and Kailei joins him on location where possible.
Kelly says he owes his exotic looks to a background that contains some Native American and African-American ancestors. He started tap and ballet dancing at four, and got a university arts scholarship to study theatre after he left high school. He also learned to play the saxophone.
However, he didn't last long at college because he got a part in the musical, Bring in 'da Noise, Bring in 'da Funk. His dancing career took off from there, ultimately leading him to Riverdance 10 years ago.
Rocio is the youngest of four, and as she was always dancing, her parents Carmen and the late Manuel sent her to dance classes, which she adored. She specialised in flamenco, and was soon travelling around the world with Riverdance.
For his part in the show, Kelly is one half of the funky, cheeky, tap-dancing duo who challenge the more rigid Irish dancers to a dance-off. It's the funniest part of the show, and is brilliantly executed.
"It makes you so proud to see the person you love on stage," says Rocio. "I try to watch Kelly every night because the performance is always different, and it's great to see the audience reaction."
Now based in Dublin for the summer for Riverdance at the Gaiety, Kelly and Rocio are enjoying the city and have made a few lightning visits to see other places. Her niece and nephew came over to stay recently, and they took them to the Giant's Causeway.
Living near Christ Church, they are enjoying performing for the show, which will run for the rest of the summer, and as ever, is a moving, stirring and deeply impressive show that should not be missed.
Rocio is the show's flamenco dancer, and she dances beautifully and gracefully — with the passion that is needed to portray the fiery Latin drama in the scenes in which she stars. Funnily enough, offstage the duo are refined and gentle; both easy-going and calm and clearly mad about one another. Kelly says that Rocio is an amazing person — even if he is not quite as tidy as she would like him to be.
"Kelly is a genuinely beautiful person, inside and out," says Rocio. "He is everything I was looking for in a man."