Lady of the Dance
May 29, 2012
Interview by – MARGARET AGNEW , Your Weekend Page, Christchurch, New Zealand
As Christchurch begins its postquake recovery, the big acts are returning to entertain the city. Leading the charge is the farewell tour of global Irish dance phenomenon Riverdance.  A lead dancer in the Riverdance ensemble for several years, Maria Buffini began Irish dancing at the age of 4 in Dublin. She has danced competitively from a young age, performing at festivals in Ireland, Europe and the United States. She started touring with Riverdance in 2004 and has danced with the show in Ireland, Europe, North America, Japan and Taiwan. Last year, along with her fellow Riverdance lead dancer, Padraic Moyles, Buffini performed for Queen Elizabeth II and Prince Philip, Duke of Edinburgh in Dublin during the royal visit to Ireland. While she has toured the world with Riverdance, including travelling to South Africa, China and Israel, this Australasian tour will be Buffini's first visit to New Zealand.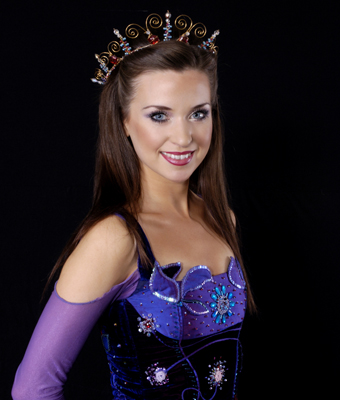 With a name like Maria Buffini, is it safe to assume there's a bit of Italian among the Irish in your heritage?
''That confuses people all the time. I actually don't really know what the origin of it is. It is Italian, but, like, five generations ago or so. My dad is definitely from Dublin and I don't get a tan, so that's the end of that.''
You began Irish dancing aged 4, so how did you know this is what you wanted to do as a career?
''You definitely go through phases as you're growing up. I went through the phase of throwing tantrums before class because I really didn't want to go. On a Saturday afternoon, I would much rather go hang out with my friends. I'm thankful now that my mother made me keep going. My sister and I were both dancers. My brother went for three weeks or so and decided it wasn't for him.''
How much training is needed to be of the standard to perform in a show like Riverdance?
''It does take a lot of dedication and I get asked if I do other forms of dance, and I don't. Looking back now, it's probably because there wasn't the opportunity at the time. At home now there's everything – hip-hop, the whole thing. It does take a lot of time, after school and when you're doing exams, things are often competing with each other and it is difficult to keep going, but usually people start very young – 4 or 5 is the average age.''
Is Irish dancing still huge in Ireland?
''Yeah, even more so now, I think, after Riverdance popularised it again. The only outlet for Irish dance before Riverdance was the competitive Irish dance. I started doing little corporate shows when I was 10 through my dance school. The path of a dancer back then was that you competed up until a certain age and then just dropped off, gave up and concentrated on different things, like college. Riverdance has turned it into a profession. People keep dancing for so much longer. If you'd asked me 10 or 15 years ago if I'd still be dancing in my late 20s, I'd have definitely said no.''
Do you prefer traditional Irish dancing or the Riverdance style?
''I much more enjoy this aspect of Irish dance. You need to put a bit more of yourself into it, which takes a bit of encouragement for Irish dancers, because you're brought up to be rigid and it's not very expressive from the hips up. It's all about the legs. Riverdance puts more personality into it.''
Was there any negative reaction to Riverdance originally?
''I'd say 90 per cent thought it was brilliant and 10 per cent preferred the old style of Irish dance. You can't deny that Riverdance has done wonders for the Irish dancing world. There are not many places we go in the world now where you don't find a local Irish dance school.''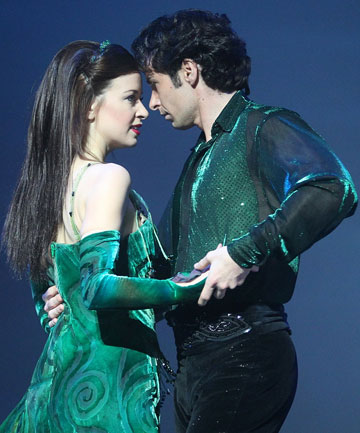 Do you have to change the costumes to perform somewhere like the Middle East? Some of the skirts are very short and fly up.
''We do have black tights on and over-knickers, so hopefully that just gets us by as not too revealing.''
 You've been performing for Riverdance since 2004?
''I started when I was still in college, studying a degree in science, so I jumped in and out every week here and there around the European tour.''
Have you had a chance to use your degree?
''Not yet. I finished that in 2005 and went on a Japanese tour with Riverdance In my mind at the time, it was a year or two, maximum, and then I would go off and start my wonderful career in science,'' she laughs. ''It's been brilliant and I know I'll never have an opportunity to do this again, so I may as well keep going while I can.''
It must be very hard on the feet and the body, performing while battling jet lag.
''It is quite taxing. We have an eight show schedule every week, plus travelling, but we do travel with a physiotherapist and a masseuse. We don't pop on the stage at eight o'clock at night. We're there from five in the evening, getting ready for the show and warming up.''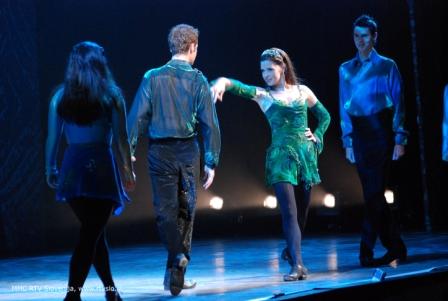 Have you been to New Zealand before?
''I've never been. I'm really looking forward to it, yeah.''
 Are you worried at all about coming to Christchurch?
''Not really.''
At your level, do you still get the joy of dancing or are you more of an athlete?
''I think it's a combination of both now. We definitely do still get the enjoyment factor. The reason people do it for so long is it's a great job. It is a pleasure to be able to go out there and perform forpeople and know you've succeeded in getting to the most coveted role in Irish dancing. It comes with a little bit of pressure and a lot of pride. You're glad every night that you're still there.''
Is this farewell tour really the end for Riverdance?
''Obviously there are higher powerswho know these things, but I think it is farewell in the sense that Riverdance, as it is now, won't be back to Australia and New Zealand.''
Interview by – MARGARET AGNEW , Your Weekend Page, Christchurch, New Zealand
Riverdance Farewell Tour
Canterbury Arena, Christchurch,  June 7-10.  Book at Ticketek.