Last chance to see Riverdance in New Philadelphia, OH
March 21, 2012
Valley viewers get last chance at Riverdance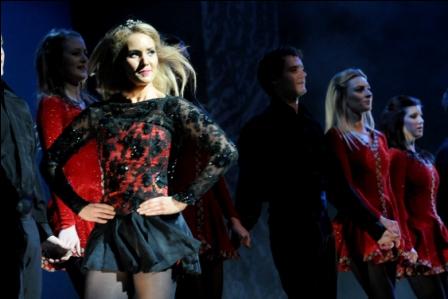 Riverdance performs in Kent State PAC, New Philadelphia, OH
4th and 5th April 2012. Ticket Prices: $42 – $61. Box Office 330 308 6400.
The show, in two acts, has 19 scenes which take the audience on a magical journey with spectacular backdrops and lighting that enhances the performance.
English-born Chloey Turner, who started Irish dancing at age 8, is one of the lead dancers the audience will see when the tour pulls into New Philadelphia.
She is an accomplished dancer and a personal fitness trainer who believes fitness and nutritional techniques have been invaluable during her career.
In a telephone interview with The Times-Reporter, Turner said seeing the original Riverdance production caught her interest.
"I don't have any Irish connection," she said, adding her father — her biggest fan — is of French descent. "Riverdance inspired me and I started dancing and winning some competitions and in 2007 I got a call to join the company — so I feel very lucky."
Turner said the two-hour show is high-energy and she goes through seven or eight costume changes. That keeps people behind the scenes busy as most dancers are involved in all the scenes.
"We have an amazing wardrobe crew," she said.
She said the show has evolved and features other types of dancing such as Flamenco.
The first act deals with people in a primitive world coming to terms with the world and themselves.
"It's a lot about myths and legends," said Turner.
The second act is about how people learned to belong to the world.
Turner said performing up to eight shows per week can be taxing. She said it is important to keep up with exercise during time off and there is a physical and massage therapist for the performers.
With about 60 people involved with the production, Turner said it is like traveling with a big family. Time off is spent gym training, watching movies and hitting different restaurants.
Exploring the world is another part of the Riverdance experience. Turner has been to places such as Singapore, Japan and Canada. She calls Radio City in New York the biggest stage on which she's performed and a highlight of her time touring in the states.
"It's quite a prestigious venue," she said. "America has been the best audience."
When the U.S. and Canada tour winds up in June, Turner said she is planning to spend some time in Dublin over the summer. Then she will be back dancing again as the production visits countries like India and China.