More adventures in South Africa
October 14, 2011
Hi everyone,
Early in the week we visited Johannesburg's largest township Soweto. Here we absorbed the wonderful culture, bright colours and friendliness of the people of Soweto. Local children insisted upon singing to us as we strolled down the famous Vilakazi Street, the only street in the world where two Nobel Prize winners have lived. We visited the former house of Nelson and Winnie Mandella. What a surreal experience! A stone's thrown away from here we spotted the corner house of Bishop Desmond Tutu.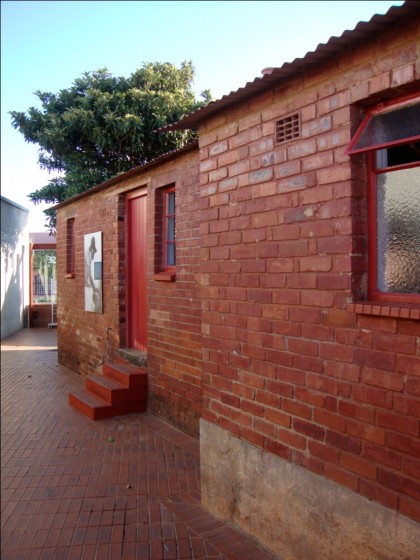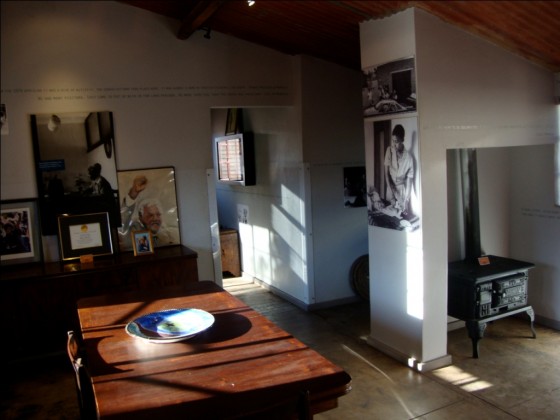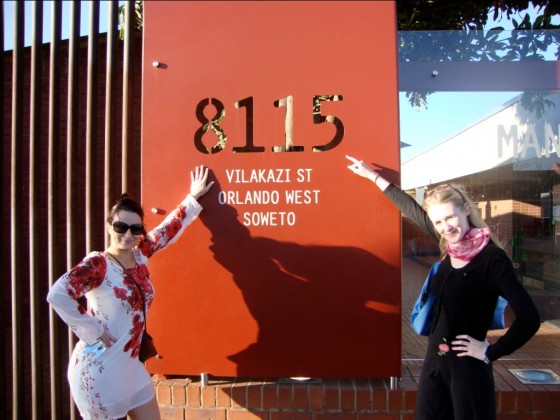 We then tucked into some local food at the famous Sakhumzi Shebeen, however none of us braved the steaming hot tripe! We wrapped up the day trip with a visit to the Hector Pieterson museum. Outside the museum, some of the chatty locals lured us across to their stalls where a range of handmade art and crafts and souvenirs were on display. After some friendly haggling and handshakes we set off with our new treasures and back to the familiarity of our hotel.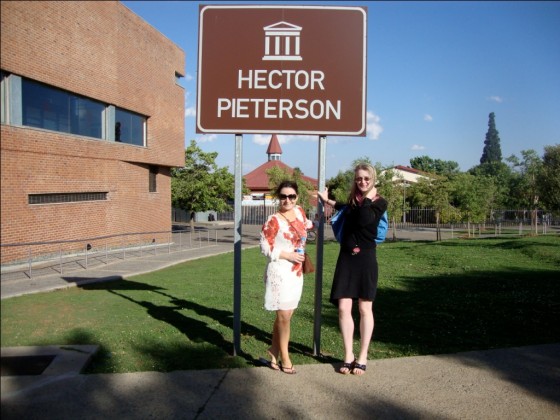 The end of week two was marked with a memorable day trip to the National Park in Pilanesberg. This is nestled in an ancient volcanic crater which lies in the north-western province. It was the perfect opportunity to witness the Big Five up close and personal. We were driving along the perimeter of the park when we stumbled upon a herd of elephants. Little did we know we were disturbing the afternoon of a feisty male elephant. All of a sudden he upped his speed from a trot to an angry charge. I had heard the elephant can run as fast as 40 miles per hour but didn't quite believe it. We narrowly escaped the angry elephant thanks to the brave safari driver whose skill for reversing through the park at high speed was polished!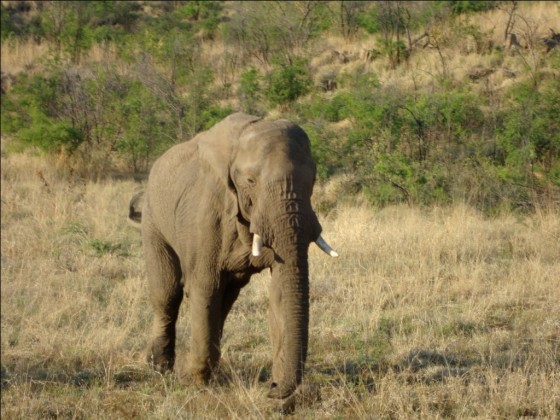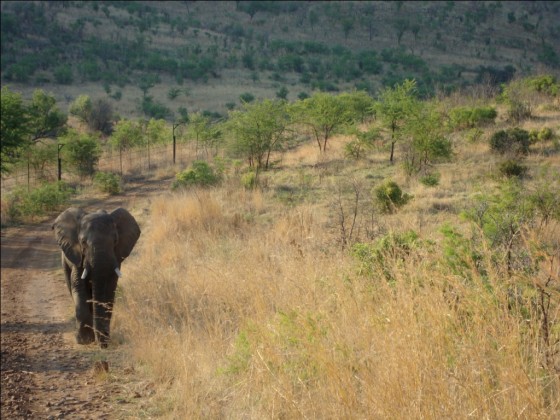 Our three hour safari was well worth the visit. Once the sun went down, a blanket of darkness settled and the animal roars and chirps suddenly came to life. We were lucky enough to witness several giraffes crossing right in front of us. Hyenas and steenbok happily grazed in the thick, dense bush and a mother rhinocerous and her baby didn't seem the slight bit fazed when we pulled up about 8 feet from them. How wonderful it was to experience wild creatures in their world.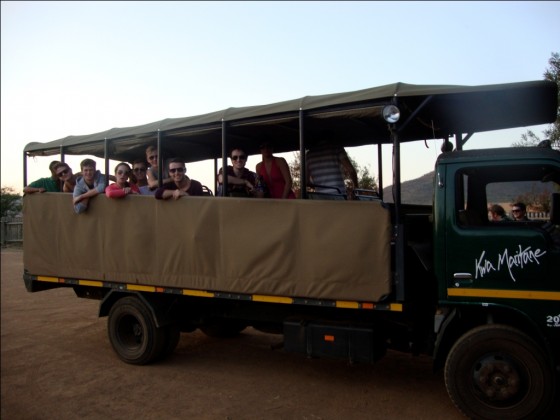 Our day off also included a relaxed afternoon visit to the internationally acclaimed Sun City. Several of the cast members lounged around at The Royal Bath rooftop swimming pool taking in the hot sun rays. Others braved the 60 foot drop at the Temple of Courage chute and the Tarantula and Scorpion body slides. This set us all up nicely for a more relaxing evening at the safari.
Don't be fooled into believing we only do fun things on our days off! On Thursday I was approached to assist in an afternoon dance workshop to none the less but 25 lucky performing art and musical theatre students at the TUT (Tshwane University of Technology) from Pretoria. Coming into a theatre hours before your due call can be described as something along the lines of having to go to the office on a Saturday morning. I stumble upon discarded electrical tape, balled up after the performance from the night before. Someone amongst our company has some poor basketball skills as they clearly missed the trash bin! Ok we're dancers, not self acclaimed NBA stars!
I was greeted by three other members of our cast –  Padraic Moyles, Niamh O' Connor and Maria Bufinni who were also involved in the workshop. We are welcomed onstage by twenty five eager faces beaming with smiles. Their enthusiasm really begins to show when we are showered with question after question – How do we stay focused EVERY night in the show? Does anybody get injured in Riverdance? What is your favourite dance?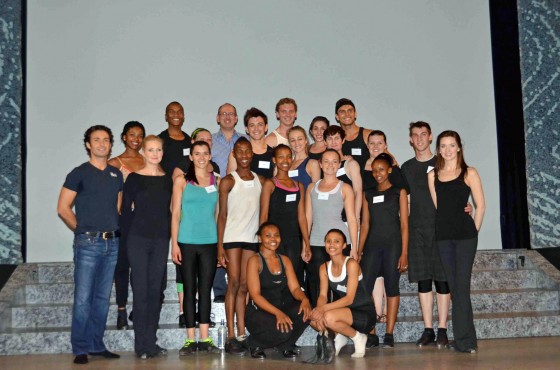 After a half hour Q&A session, we proceed to demonstrating the all-time favourite Act 1 closing number 'Riverdance'. After a solid 2 hour class, we bid farewell to these keen, devoted bunch of young adults. What a fulfilling afternoon this proved to be!
Fiona