Back to Johannesburg by popular demand
September 2, 2011
Riverdance Back By Popular Demand!
There's no better way to celebrate the beginning of spring than in the company of Riverdance, the original large scale Irish dance show that brings foot flashing energy, sensuality and a spectacle of colour to the Teatro for a remarkable second season this year.
"Mesmerising, spectacularly sublime" STAR Tonight 1/2/11
The enormous popularity and unprecedented response by the South African public to Riverdance led to a complete sell-out of the show's January 2011 season. This exceptional demand for tickets resulted in South African promoters, BIG Concerts in association with media partners M-Net and Jacaranda 94.2 bringing the show back to the Teatro for a return season opening on Tuesday, 27 September 2011 for two weeks only, ending on Sunday, 9 October 2011. Patrons who missed the earlier season are encouraged to book through Computicket.
"what a multifaceted show Riverdance truly is, full of unexpected moments of sheer artistic eloquence" Sunday Times SA, 6/2/11
Riverdance, the international Irish dance phenomenon, has been seen by a worldwide audience of 22 million in over 10,000 performances in forty plus countries throughout five continents. Riverdance also has a global television audience of more than two billion people making it the most successful dance show of its kind to hail from Ireland.
The forty-five member Riverdance company brings its innovative and exciting blend of dance, music and song back to the Teatro. Drawing on Irish traditions, the combined talents of the performers propel Irish dancing and music into present day. The fusion of Irish dancing with such diverse dance styles as Flamenco and American tap dancing captures the imagination of audiences across all ages and cultures.
"Riverdance is almost impossible to describe in words. The immense skill, timing and precision of the dancers is breathtaking" Citypress.co.za 6/2/11
Don't miss this mesmerising dance show. Book at Computicket by calling 0861 915 8000, visit www.computicket.com or visit your nearest Computicket outlet.
For all Teatro group hospitality bookings contact Montecasino Hospitality & Corporate Events on 011 510 7905 or montecasino.hospitality@tsogosun.com. Contact the Montecasino Reservations Centre, 011 367-4260 or montecasinoreservations@southernsun.com for Hotel Show and Stay Packages.
"a brilliant aural and visual spectacle" "There are few occasions where I have been so overwhelmed by the sheer radiance of a show so flawlessly executed that I have been left virtually speechless." Artslink.co.za 01/27/11
"Haunting music, flashing feet, beautiful girls so light they look as though they are flying … this is Riverdance"
"I've waited a long time to see the original Riverdance – and I was not disappointed" Artslink.co.za 01/28/11
"Riverdance is a wonderful show with powerful energy which magnifies and explodes from the stage, keeping the atmosphere charged from beginning to end " Dancedirectory.co.za 3/2/11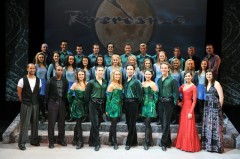 MEET THE CAST – SOUTH AFRICA TOUR
__________________________________________________________________________________________________________________________________________
SHOW INFORMATION:
VENUE:
The Teatro at Montecasino, Johannesburg
DATES:
Tuesday, 27 September to Sunday, 09 October 2011
SHOW TIMES:
No Monday performances.
Weekdays: Tuesdays – Fridays 20h00
Weekends: Saturdays 15h00 and 20h00
Sundays 14h00 and 18h00
PRICES:
MID-WEEK including Computicket service fee
Tuesday to Thursday and Sunday evening
R221.00, R272.00, R324.00, R374.00
WEEKEND including Computicket service fee
Friday, Saturday and Sunday matinee
R 246.00,R 297.00, R 349.00, R 399.00
FAMILY PACKAGES:
Valid on Tuesday, Wednesday and Thursday nights ONLY (on R 272 tickets)
Family of4 pays R 960, 5 pays R 1,200 & 6 pays R 1,440
(R240 instead of R272)
DISCOUNTS:
1. 20 or more tickets = 10% discount;
2. 100 or more tickets = 15% discount;
3. Student / Pensioner = 20% discount
Students:on presentation of a valid student card at a Computicket outlet and
limited to 1 ticket per student card
Pensioner: only available at Computicket outlets and
limited to 1 ticket per person
4. Full house = 30% discount weekday performances only
5. Charities/Fundraisers : 15% on top of the discounts offered above (no Friday or Saturday performances)
BOOKINGS:
Computicket by calling 0861 915 8000, visit www.computicket.com or
visit your nearest Computicket outlet
CORPORATE/ GROUP TICKET PACKAGES:
Contact Warwick Hospitality & Events, 011 467 8400 or caryn@warwickhospitality.co.za
GROUP HOSPITALITY PACKAGES:
Montecasino Hospitality & Corporate Events, 011 510 7905 or montecasino.hospitality@tsogosun.com
HOTEL SHOW AND STAY PACKAGES
Montecasino Reservations Centre, 011 367-4260 or montecasinoreservations@southernsun.com