Riverdance performs at a Celebration of the Queen's visit to Ireland
May 19, 2011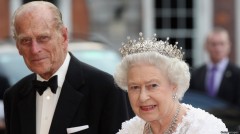 This evening the British Embassy, led by the British Ambassador to Ireland Julian King, will host a celebration of the Queen's state visit to Ireland in Dublin's Convention Centre.
Highlights of the event will be broadcast on RTE One at 20:15.
The indoor garden party will be attended by Queen Elizabeth II and the Duke of Edinburgh, President Mary McAleese and her husband Martin, with some 2,000 invited guests from across Ireland involved in the business, sporting, entertainment, politics and charity sectors.
The event organised by Riverdance director John McColgan, film-maker Gerald Heffernan, publisher Norah Casey and event producer Harry Crosbie will feature a performance by Riverdance and acts including Westlife, The Chieftains, the National Symphony Orchestra, X Factor star Mary Byrne and former Eurovision winner Eimear Quinn.
Some of Ireland's leading actors will also appear, giving readings from "the best of Ireland's literary tradition".
A fashion show will also be hosted as part of the event, featuring designs from John Rocha, Louise Kennedy, Michael Leong and Marks and Spencer.
British ambassador to Ireland, Julian King said he was delighted that so many stars were set to appear at the tonight's event, to mark the final night of the Queen's visit to Ireland.
Riverdance cast for the performance are confirmed as principal dancers Maria Buffini and Padraic Moyles and in the troupe will be Darren Casey, Shona Cobbe, Damian Doherty, Niamh Eustace, Anthony Fallon, Barry John Gallagher, Patricia Henry, Ciara-Lee Jenkinson, Craig Mason, Marcus Maloney, Aoife McDarby, Niamh McDarby, Dane McKiernan, Aisling McVeigh, Laura Minogue, Cal Moran, Lisa Murphy, Caitlin NicGabhann, Carla O'Brien, Niamh O'Connor, Jason O'Neill, Andrew O'Reilly, Anne Toner
Also Riverdance fiddle player Niamh Fahy and Uileann Piper John O'Brien will be joining the RTE orchestra for the performance.