Riverdance in Lubbock & Independence
February 26, 2010
Laura Yanez, Soloist, Boyne Company
Hi Again! This week we left El Paso, Texas bright and early after a delicious Mexican breakfast for Lubbock, Texas. This city is famous for being the birthplace of rock legend Buddy Holly, and also houses the football giant Texas Tech University. We actually performed on campus, in the City Bank Auditorium. This venue was attached to a sports arena, so we had plenty of space backstage, and I even warmed up in the stands of the Coliseum one day. Talk about good acoustics!
Back at the hotel, we had our very first game night of tour as a company. On Wednesday, Irish Dancers Craig Ashurst and Damian Murphy organized a hilarious pub quiz. We were all divided into random teams, and then had to answer a variety of trivia questions, as well as complete strange tasks for prizes. I didn't contribute much past the music section, but luckily I had a pretty well rounded team!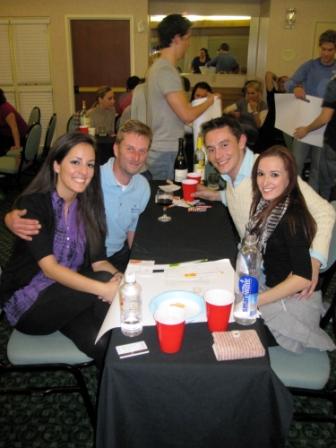 Competition was intense, with Brian Mullane winning for biggest balloon blown without popping, and team "Here Comes Trouble" winning for most creative Riverdance poster. However, one team pulled ahead and won overall, collecting their prize of champagne and candy quite joyfully!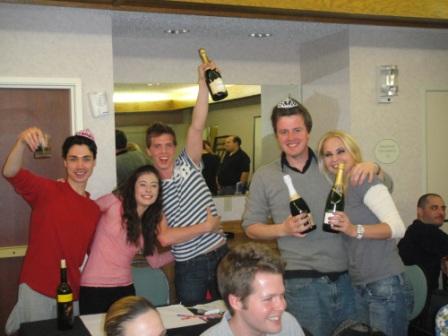 On Friday, we hopped on a plane to Independence, Missouri, just outside of Kansas City. The dressing rooms had gorgeous flat screen TVs so we spent lots of our offstage time watching the Olympics. We were very excited to see a Japanese figure skater Akiko Suzuki performing to a medley of Riverdance songs! It was also our lovely wardrobe mistress Allison Goodsell's birthday, so of course we had some cake to fuel us for a 4-show weekend.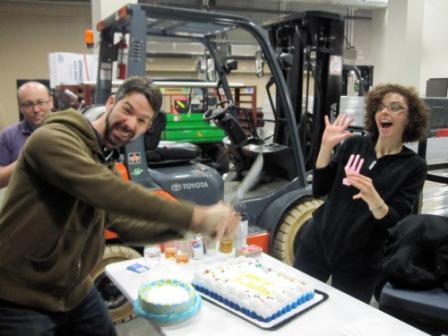 With only two days in Missouri, we didn't get to see much, but we had a first of 2010…our first snowfall! With our tour moving to the northeast, I'm sure we'll see plenty more, but there is nothing like a fresh snow fall to play in.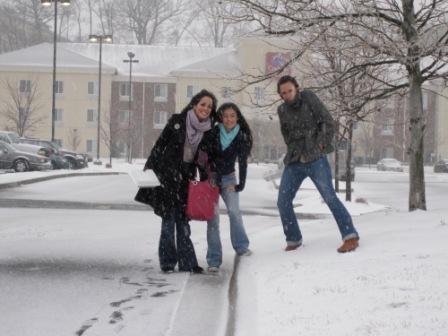 On Monday, we head to Youngstown, Ohio for three shows at the Powers Auditorium. See you then!
Laura