Riverdance visit Bielefeld and Karlsruhe
February 15, 2010
Patricia Henry, Dancer, Corrib Company
We are into our second spilt week in a row in Germany and the exciting thing about this week is we get to celebrate Gillian Madders 21st birthday. Gillian was one of the new members to join the company before Christmas. We always tend to make a big deal if someone turns 21 on tour as it is such a special birthday and it can be hard on people being away from their family and friends at home. We all clubbed together and got Gillian a lovely Swarovski crystal necklace, which she loved. Even though her birthday was on Tuesday, we organised that we would go out on the Monday night after arriving into Bielefeld as we didn't have a show that night. We all got dressed up and headed to The Dubliner where we had cake and drinks and celebrated in style, needless to say it was a late night, but I think Gillian really enjoyed herself.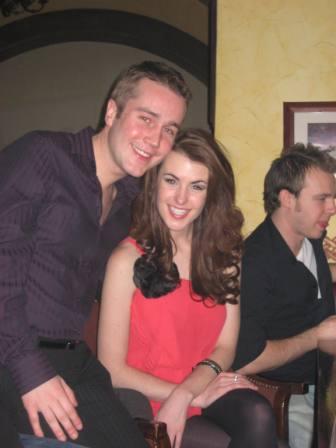 We had another birthday to celebrate again on Wednesday, but it wasn't exactly a company member this time. Aoife McDarby's boyfriend Alan was out visiting for the week and he turned 30th on Wednesday so Aoife surprised him with throwing a surprise party in The Dubliner again. The second time in a week we got to have birthday cake, and we loved it. Another great night was had and I think Alan really did get a surprise.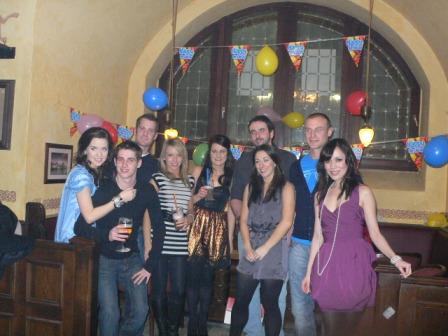 Bielefeld was really good for shopping but the unfortunate thing about it was that the snow was starting to melt so it meant there was slush everywhere, it was very messing trying to get round and it was also very cold. We were lucky though because across from the hotel there was a big complex which had lots of nice restaurants, a cinema and bowling alley.
We travelled to Karlsruhe on Friday and had the night off to relax as we were all quite tired from our busy few days in Bielefeld. We didn't do much except watch a few movies and chill out. Saturday and Sunday were busy days for us with two shows both days so there wasn't much time for anything else except the shows. Sunday we got catering between shows because after the night show we had to get straight on the bus and travel to Stuttgart. But it was ok as it was only an hour's drive.
Next week we're off to Stuttgart and Hannover.
Patricia
Riverdance visits Kunming and Chongqing
<
Riverdance in Amarillo and El Paso
>