Interview with Riverdance Musician Niamh Fahy
May 13, 2009
Name: Niamh Fahy
Nationality: Irish
At what age did you start playing music?
4 years old
When and what made you decide you wanted to be in Riverdance?
It's a show I've always wanted to play in and when I was called to audition it became a reality!
Where did you audition for Riverdance & what was that like?
I auditioned in Dublin. I have to say I was nervous doing the audition, hopefully that didn't come across too much!
How did you feel when you heard you had got into the show?
I was delighted! I was playing in the States when I heard so I was eager to ring home and tell them the good news!
What is your favourite part of the show?
My favorite part to play is Slip Into Spring and my favourite all over number is Trading Taps. I think there's great energy to it.
Best Riverdance moment?
This year on the Corrib tour of the UK we played in the Hammersmith Apollo in London for a week. I have to say that was a great experience. The audience reaction was great as was the vibe amongst the whole troupe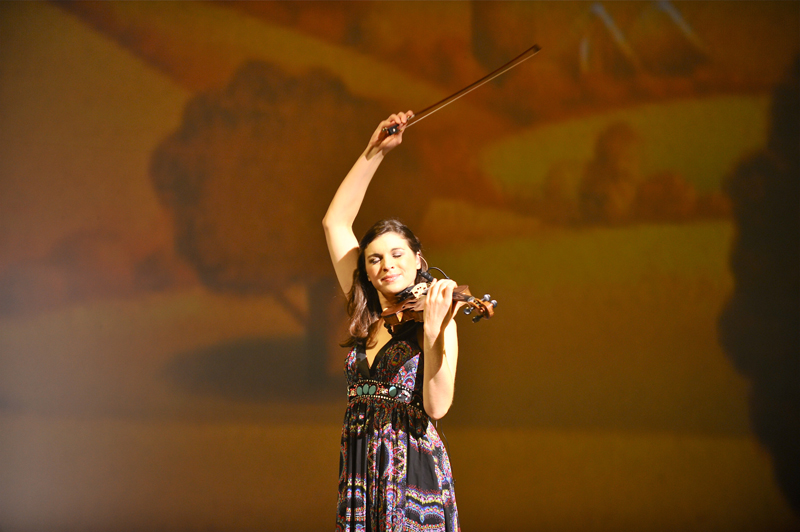 What is your most embarrassing Riverdance moment?
I've none to speak of yet! Hope I haven't cursed that now!!
What do you do in your free time while on tour?
So far the cities we've been in I've never visited before so I like to go exploring and finding out what makes each place special.
What´s the question you´re asked the most when people find out you perform with Riverdance?
If I'm related to Marin Fahy, a previous fiddle player with the show. Also people often ask what it's like to be part of such a successful and long running show.
Do you have any rituals you have to do before going on stage?
I like to warm up before each show. I play all sorts of things from Bach to Gershwin to old traditional tunes.
What advice can you give someone who wants to be the best performer they can be?
As cliché as it sounds practice is really the best thing to do to reach your optimum performance standard. I would also tell them to play along with as many musicians as possible as you learn something new every time. It's great to play outside your comfort zone now and again, you learn how to play under pressure
Favourite music / film / website at the moment?
At the moment I'm listening to a mixture of Bruce Springsteen, Dave Matthews, Ojos de Brujo and Kate Rusby! I have two favourite movies at the moment; The Last Waltz and Amelie
What book are you reading at the moment?
The Smoke Jumper by Nicholas Evans